Writing in Public: Summary of Month 11
Month #11 Summary of this Writing in Public challenge.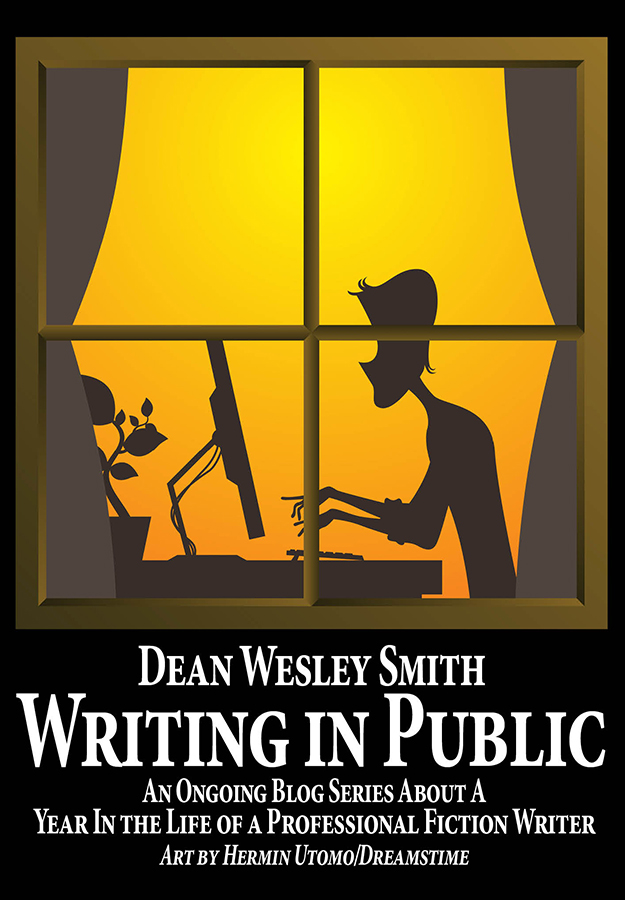 June 2014
Once again, as with last month, this was a pretty solid month, all things considered. I didn't pick up speed as I hoped to do, but that's all right. Still fine.
Smith's Monthly is going right along. #9 came out just fine. Electronic copies were shipped to subscribers and paper copies will be going out shortly, just slightly late due to a printing and shipping issue. If you didn't get an electronic copy and should have, please let me know. I also got #10 back from the proof reader and I started working on flowing it in already.
I had another novel come out this month, and have another almost done, so all good there. At some point I'll do a post showing all the novels so far.
I am also still having a blast doing the online workshops and we started two new ones in June: Thrillers and Writing in Series. (Both are available in July.) So I did a bunch of recording on those two new workshops during the month.
As I said last month, the online workshops might seem like they take a lot of my time, but they honestly don't because they just don't fill up with writers most of the time. Especially this time of the year. See my post on the "Time of Great Forgetting."  Many of the workshops will only have three or four writers in them in July, so I can really help those people. And that's fun for me.
Also, I've got the workshops to only three days per week, which has helped me a great deal.
No new lectures up in June, but there should be three in July. We changed the password structure, so now the passwords you got in June are good at least through the end of the year. No more regular mailing clogging up your inbox on lectures.
As before, on this report and during the month, I only reported new words on everything.
I also got 15 new covers done. Those were fun. Far more than normal. And I hope in July to get out another eight books to last year's subscribers to my short stories. I still owe them two months.
My responses to questions on my blogs and to questions in the workshop web sites I still don't count. I might count them in July just to see the amount of words involved over a year.
I had a total new words written of 105,200 words, of which 52,800 words of that was new fiction. Notice I also had 14,700 words of nonfiction, by far the largest month on that. I finished Killing the Top Ten Sacred Cows of Indie Publishing and that book is now available for sale as well.
In eleven months I have written a total of 1,176,025 original words, or an average of 106,900 words per month. Considering those bad winter months, that's not bad.
Yes, that's right, after eleven months, I am well past 1 million words.
Coming New Month
Just as I did with the eleven months before, I'm going to start the counting over for July. And I'll start the project list of completed projects for the month over as well. Up under the Writing in Public tab at the top I will put the completed projects per month and links to the first and last posts of the month and to this summary post, so anyone can go back and look.
If you have the time, the comments on a bunch of the posts have been great questions and worth the read. Thanks everyone, for the great comments and questions. Please don't be afraid to comment if something strikes you.
And I hope to start a new Sacred Cows book, and I will also in July redo and get all the chapters of Think Like a Publisher 2015 up.
And each monthly summary post I'll update the full year's projects on that post as well as I am doing below.
Stay tuned.  Here we go with month twelve. (Yeah, believe it or not, I'm still going. (grin))
—
Monthly Totals
Fiction:
August: 78,900 words
September: 81,200 words
October: 86,200 words
November: 56,800 words
December: 52,000 words
January: 34,150 words
February: 35,450 words
March: 70,250 words
April: 56,025 words
May: 80,650 words
June: 52,800 words
Nonfiction: 
August: 1,000 words
September: 2,900 words
October: 2,000 words
November: 1,950 words
December: 1,700 words
January: 1,400 words
February: 6,550 words
March: 7,800 words
April: 2,500 words
May: 7,100 words
June: 14,700 words
Blog Posts: 
August: 21,300 words
September: 16,600 words
October: 15,150 words
November: 12,550 words
December: 17,300 words
January: 11,450 words
February: 10,000 words
March: 14,800 words
April: 15,300 words
May: 19,600 words
June: 14,800 words
E-mail:
August: 809 e-mails. Approx. 23,050 words
September: 861 e-mails. Approx. 24,600 words
October: 647 e-mails. Approx. 24,450 words
November: 622 e-mails. Approx. 24,250 words
December: 621 e-mails. Approx. 29,700 words
January: 802 e-mails. Approx. 19,200 words
February: 759 e-mails. Approx. 21,250 words
March: 980 e-mails. Approx. 33,200 words
April: 841 e-mails. Approx. 25,700 words
May: 921 e-mails. Approx. 24,800 words
June: 827 e-mails. Approx. 22,900 words
TOTAL NEW WORDS
AUGUST… 124,250 Words
SEPTEMBER… 125,300 Words
OCTOBER… 127,800 Words
NOVEMBER… 95,550 Words
DECEMBER… 100,700 Words
JANUARY… 66,200 Words
FEBRUARY… 73,250 Words
MARCH… 126,050 Words
APRIL… 99,575 Words
MAY… 132,150 Words
JUNE… 105,200 Words
—–—
Stories and Projects Finished in June
In order of production with the most recent at the top.
— Formatted and got to the printer June's Smith's Monthly #9.
— Finished and turned in July Smith's Monthly #10.
— Finished the book Killing the Top Ten Sacred Cows of Indie Publishing. It will appear later in June.
— Finished the introduction to July Smith's Monthly #10.
— Finished the short story "Skiing the Graveyard of Souls."  It will appear in July Smith's Monthly and then in a stand-alone form at some point after that.
— Finished the novel Heaven Painted as a Poker Chip: A Ghost of a Chance novel. It will appear in July Smith's Monthly and then in a stand-alone form in October.