Three Years
That's right, three years ago tomorrow I started this daily blog, missed a few days, then settled into a streak of not missing posting something here.
I wrote numbers of non-fiction books here and am working on yet another with the third Sacred Cows book. And three years ago I announced Smith's Monthly and that the first issue would be out in October three years ago. I should have the 36th issue out in late September if all goes well. Right on time.
I had planned to just stop the daily blogs and do special posts blogs, but have now decided to just keep on going for a while with the daily ones, even if some of them are just placeholders.
As far as challenges, well, for the next three months and some odd days, my main focus will be getting in shape and losing weight, as well as writing. I have set a health goal that I will tell you all about in detail in September if I can first get through this month.
I got through July with 31 straight days of five miles a day of walking. And in the process I lost eight pounds.
So August I am ramping that up and I will report my daily exercise here for the few of you who are interested in seeing a 65 year old man lose weight and gain back physical strength. Boring, I know, but not for me. (grin)
As far as the writing, if I don't really push in the next five or six days and finish this mystery, I will have to put it aside for ten days to write another book to deadline. Kind of don't want to do that. So going to push.
And I got 2,200 words on it tonight and it finally feels like it is moving again.
————–
August Online Workshops
Still lots of room in these except the Short Story workshop. It is now sold out, but the two new ones still have room. All details at www.wmgpublishingworkshops.com
THE WORKSHOPS START ON TUESDAY AND WEDNESDAY…
Letters will go out to everyone who is signed up Saturday night late.
Class #11… Aug 2nd … The Business of Writing
Class #12… Aug 2nd … Expectations (Writing on the Rails)
Class #13… Aug 2nd … Writing Mysteries
Class #14… Aug 2nd … Ideas into Stories
Class #15… Aug 2nd … Teams in Fiction
Class #16… Aug 3rd … Depth in Writing
Class #17… Aug 3rd … Plotting With Depth
Class #18… Aug 3rd … Writing Fiction Sales Copy
Class #19… Aug 3rd … Writing and Selling Short Stories (Full)
Class #20… Aug 3rd … Advanced Depth
Classic Workshops and Lectures are also available at any time.
—————
Topic of the Night: Expectations Workshop
I had no doubt that the Expectations workshop would not have many people signed up for it and I was right. It met my expectations. (grin)
But this week I have been recording the first part of it and having fun.
The reason I wanted to do this workshop even though few would take it was because I wanted to help myself even more. I wanted to understand at a much deeper level why readers stayed with a book, what reader expectations are for any given book, and how to avoid messing up the reader expectation of a book when possible.
Now, of course, this topic is very, very complex and something most early-stage writers would go "Huh?" Early stage writers think about the sentences, not the readers they are trying to entertain. I got that and that's fine.
As I have said before, I do these workshops for me, to keep learning. That's why I teach, why Kris teaches as well. And honestly, today, after working through the first two weeks of the Expectations workshop, I was surprised at how much it helped me get a few things in my own writing in focus.
The first week of these workshops usually contain just the basics to get started. But the basics of this one made me look at things completely differently again. And I found that exciting, to be honest.
Now granted, I'm deep into stage four as a writer, where my focus is on the reader, not the words or the typing. So this kind of study of reader expectations would interest me.
And the first assignment is just fantastic fun. I tried to do it on the fly and didn't do it that well for the video, but after I was done with the video, I did it in writing, basically doing the assignment myself, and realized I had found something really fun to do in general. Maybe the most fun and challenging assignment in any workshop. Weird, but true.
So in essence, we could have called this workshop "Reader Control" instead of Expectations or Writing on the Rails. Or maybe a better way of talking about this workshop would be Writer Control. The workshop helps a writer learn control in areas the writer didn't know needed to be controlled, which in turn keep the reader satisfied with the book.
Yeah, something like that. But at least I'm learning and having fun. And with these workshops, that's what really matters. Because the moment I stop being interested, passionate, and learning with the workshops, they will be gone.
Anyone who knows me knows that I bore easily. (grin)
These two new workshops are far from boring, that's for sure.
——————-
The Writing of Freezeout: A Cold Poker Gang Novel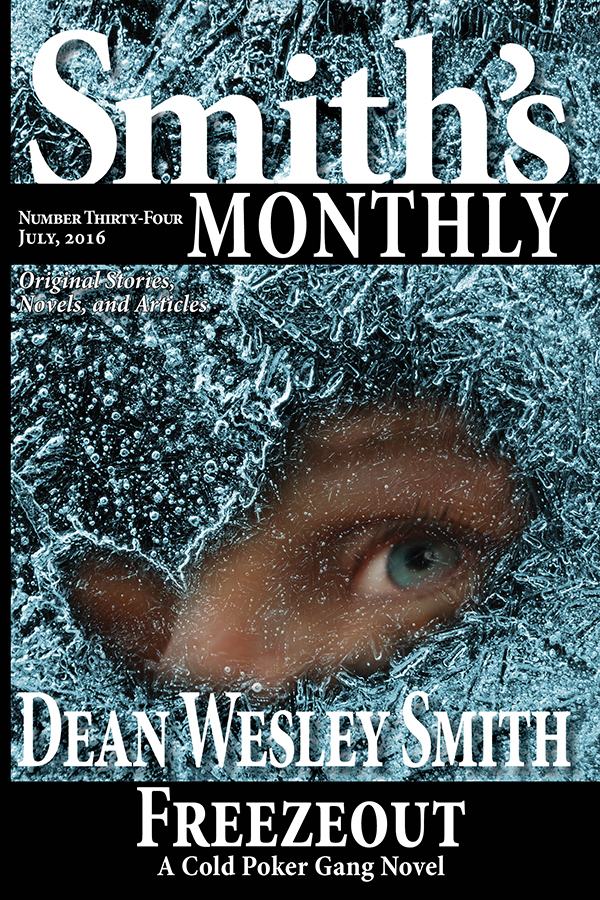 Day 1… 1,050 words.   Total words so far… 1,050 words.
Day 2… 2,850 words.   Total words so far… 3,900 words.
Day 3…   800 words.   Total words so far… 4,700 words.
Day 4…   4,700 words.   Total words so far… 9,400 words.
Day 5…   3,200 words.   Total words so far… 12,600 words.
Day 6…   3,100 words.   Total words so far… 15,700 words.
Day 7…   3,400 words.   Total words so far… 19,100 words.
Day 8…   3,500 words.   Total words so far… 22,600 words.
Day 9…   2,200 words.   Total words so far… 24,800 words.
—————-
Totals For Year 3, Month 12, Day 31
Writing in Public blog streak… Day 1,046
10,000 steps streak… Day 31
— Daily Fiction: 2,200 original words. Fiction month-to-date: 54,700 words  
— Nonfiction: 00 new words. Nonfiction month-to-date total: 00 words 
— Blog Posts: 900 new words. Blog month-to-date word count: 15,300 words
— E-mail: 7 e-mails. Approx. 300 original words.  E-mails month-to date: 522 e-mails. Approx. 32,700 words
— Covers Designed and Finished: 0. Covers finished month-to-date: 8 Covers
———-
— Year of Short Fiction Goal: 120 stories. Stories finished to date: 8 stories.
— Yearly Novel Goal: 12 Novels. Novels finished to date: 0 novels.
——–
You can support this ongoing blog at Patreon on a monthly basis. Not per post. Just click on the Patreon image. Extra stuff for different levels of support and I will be adding in more as time goes on. Thanks for your support.
Or you can just toss a tip into the tip jar with a single donation at PayPal. Either way, your support keeps me going at these crazy posts.
And thanks.