The Power of Having Inventory
Not Only Does It Help for Discoverability…
But wow is having inventory important to saving time and making money in fiction writing. And a bunch of it.
First off, in publishing, what is inventory? What you might assume, in many respects. Basically inventory is made up of books and stories and collections and other kinds of books in print, available around the world. In other words, all your IP.
I try to get writers to keep track of their inventory, keep a list at hand. A spreadsheet. And this is very, very easy when you are starting out. You got three novels and seven short stories, your inventory is pretty thin and you need to keep writing. But keep track of it and add to it with everything you finish.
For writers like me, it's another matter completely to keep track of inventory.
For example, I have an entire spreadsheet of just the short stories that have appeared in the 44 issues so far of my magazine Smith's Monthly. Four or five short stories per issue, never repeating. Close to 200 stories on that inventory sheet. That's a big spreadsheet, and it doesn't even begin to cover all of my short fiction. Or novels. Or nonfiction books.
On that spreadsheet I keep track of what issue the story appeared, if it has been published stand-alone electronic, in paper, in audio, and so on. Even in collections.
Remember that in every issue I also had a novel and part of another novel or book and often a nonfiction book serialized. I keep track of all that as well and so does WMG Publishing. Actually they do it far better than I do and have to help me at times.
So looking at inventory, each issue is an inventory item, each story, each novel, each book. All are inventory items.
So why is this important to have all this at your fingertips? Let me give you an example or two or three.
Just yesterday I got invited into an indie bundle with some large indie names who are wanting to try some experiments with the bundle. I needed a certain type of story. I had my inventory and was able to find one. (Never trust your memory.)
Another example: Not too long ago I was lucky enough to put together a novel bundle for StoryBundle called: Saving the World. Not only did I have a novel in my inventory that was on topic, but Fiction River that I help edit had a volume that fit as well. And you still have ten days to grab that bundle before it goes away. Here's an image of it: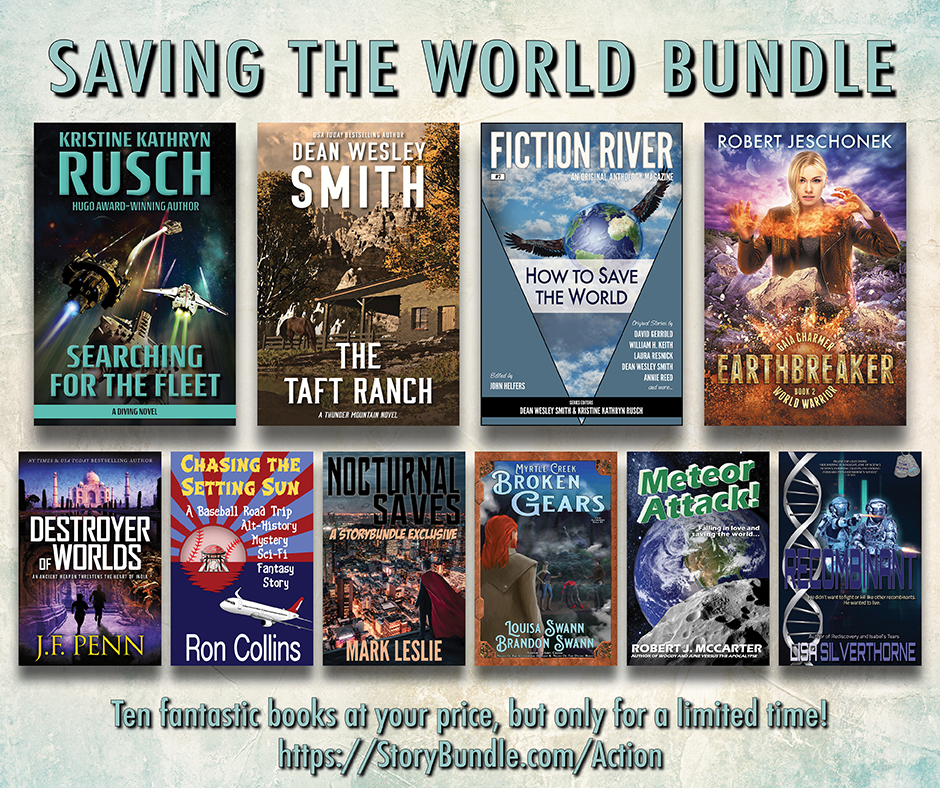 Inventory. Mine and WMG Publishing.  And notice that Kris had a book in her inventory as well that fit. And when I talked with other authors, they either said, "Yes, got one." Or they went to look at their inventory and didn't have anything that fit. But all the writers I asked had inventories of their novels they could check because everyone in the bundle is a professional writer.
Another Example? How about yet another bundle that just launched tonight. Edited by Kris.
It's a Historical Mystery bundle on StoryBundle and wow does it have some stunning books in it. When Kris asked for an historical mystery novel, I found instantly my novel about the Idanha Hotel in Boise. I spent a vast amount of time researching that old hotel and making it real in the book set in 1903 or so.
I have read many of the books in this bundle she put together. They are stunning and I am proud to be in both of these bundles. And the reason I am is because I had inventory and was able to access it.
(You want two good examples of my Thunder Mountain series, both stand-alone, get these two bundles. I can tell you, both books will surprise you.)
Another form of inventory. The workshops we have available on Teachable. Hit the "see all" button when you get to our school on Teachable to see all the lectures and workshops we have available. There are a lot of them. (And over the next couple of weeks I have planned to move about seven workshops that are not there right now to Classic Status.)
And yes, I have an inventory of all of the classes because they are all work products, they are all IP.
Kris and I and WMG Publishing created them. So when Kevin J. Anderson asked me if I wanted to be in the NaNoWriMo Bundle, I knew that all of my writing books had already been in a bundle (because of an inventory Allyson at WMG holds), so I suggested one of our online writing lectures, which is a $50 value that you can get in the bundle.
Here is a picture of that bundle. Great stuff in this one as well.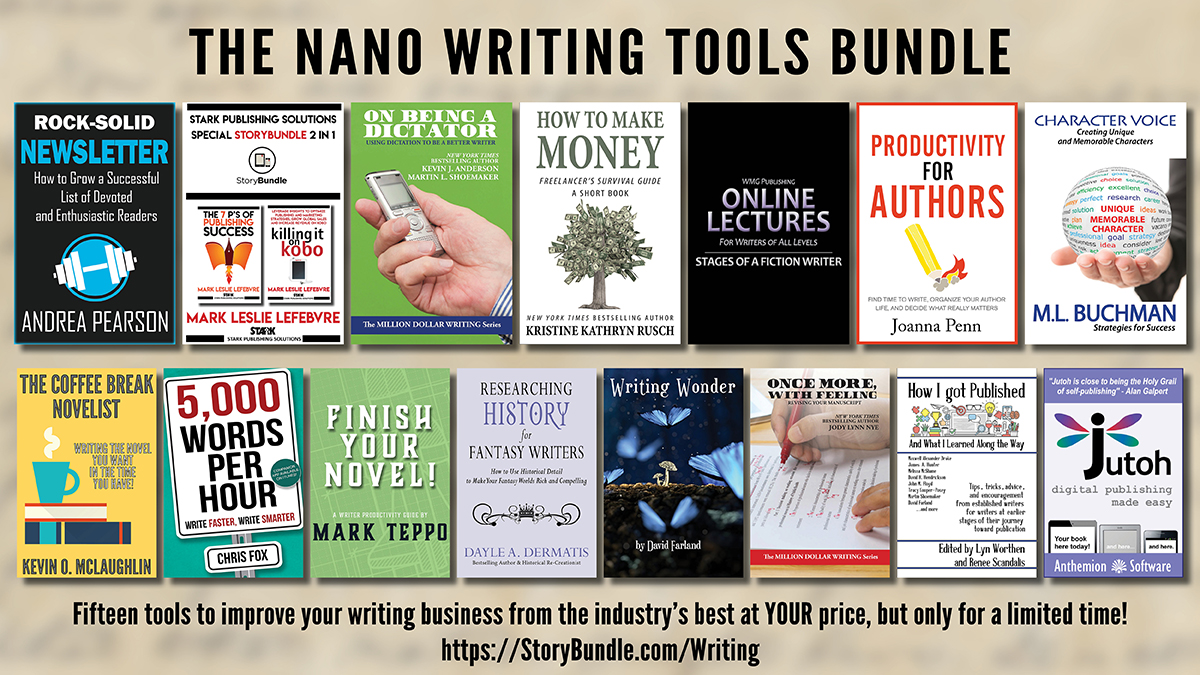 Again, I knew my inventory. And because I knew my inventory was at my fingertips, I get to be in three really amazing Storybundles at the same time, and get my work out to more readers and make some extra money in the process.
So even if you are just starting out and focusing on being productive and writing a lot, set up an inventory system to keep track of what you have. It might seem silly at first, but wow will it pay off in time saved and money made down the road.
Just a hint. Now, go get the three bundles. (grin)