THE ONLY REASON FOR THIS BLOG…
…is because I have a streak going. That's right, for 1,353 nights in a row, I have put a blog up here.
That's every day for 3.7 years.
Without a miss, even when I was sick or traveling. I am sure the count is off a day or more one way or another, but close enough. I know I haven't missed a day in all that time.
This very well might be the dumbest streak in all of time.
Today I took today away from this computer and writer's meetings and all that other stuff and went and saw Wonder Woman, had some great food, did some shopping,and had a fun drive. The only reason this is here is that silly number above. Otherwise I would have just watched some television and gone to bed.
The power of a streak.
The rest of this blog is copied from yesterday because I really hope you all will buy this great bundle of science fiction novels. Or at least pass the word in your favorite social media place.
And while I am at it, still lots of room in the June online workshops as well starting this week.
———-
Wanted to remind everyone about the great science fiction bundle that is active at the moment. Some really fantastic summer reading here by some top writers.
https://storybundle.com/moonscapes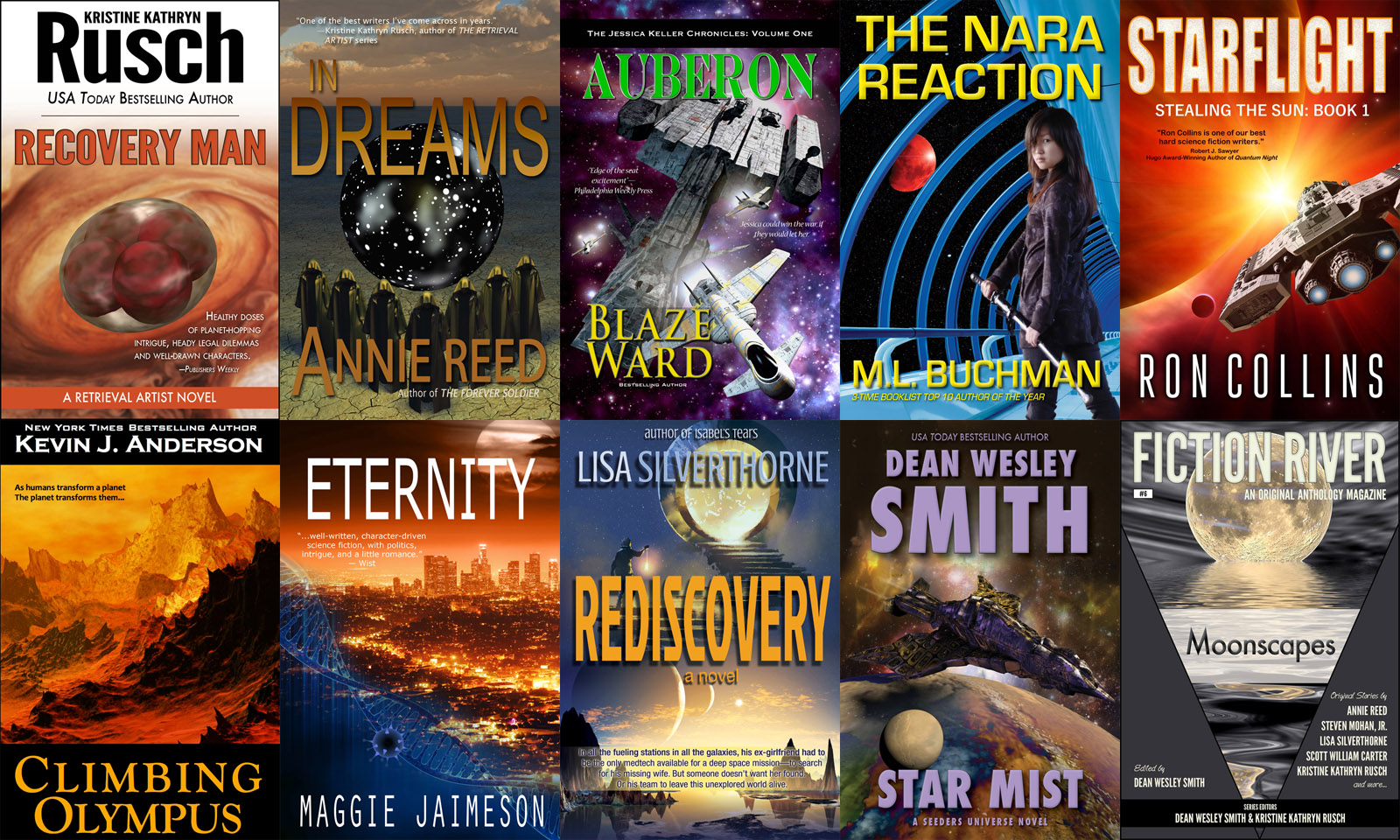 The initial titles in the Moonscapes Bundle (minimum $5 to purchase) are:
Starflight by Ron Collins
The Nara Reaction by M. L. Buchman
Recovery Man by Kristine Kathryn Rusch
Auberon by Blaze Ward
In Dreams by Annie Reed
If you pay more than the bonus price of just $15, you get all five of the regular titles, plus five more!
Eternity by Maggie Jaimeson
Rediscovery by Lisa Silverthorne
Climbing Olympus by Kevin J. Anderson
Fiction River: Moonscapes by Fiction River
Star Mist by Dean Wesley Smith
This bundle is available only for a limited time via http://www.storybundle.com. It allows easy reading on computers, smartphones, and tablets as well as Kindle and other ereaders via file transfer, email, and other methods. You get multiple DRM-free formats (.epub and .mobi) for all books!
It's also super easy to give the gift of reading with StoryBundle, thanks to their gift cards – which allow you to send someone a code that they can redeem for any future StoryBundle bundle – and timed delivery, which allows you to control exactly when your recipient will get the gift of StoryBundle.
Trust me, folks, this is some fantastic summer reading. And for $15 and a few bucks to AbleGamers, you can't go wrong here.
——————–
JUNE ONLINE WORKSHOPS… STARTING NEXT WEEK
All have openings at the moment. Information at
www.wmgpublishingworkshops.com
Any questions at all, feel free to write me. And if you are confused as to which workshop to take first, we have a full curriculum posted on its own page.
Class #51… June 6th … How to Edit Your Own Work
Class #52… June 6th … Point of View
Class #53… June 6th … Writing Mysteries
Class #54… June 6th … Speed
Class #55… June 6th … Teams in Fiction
Class #56… June 7th … Depth in Writing
Class #57… June 7th … Expectations (Writing on the Rails)
Class #58… June 7th … Character Development
Class #59… June 7th … Writing Secondary Plot Lines
Class #60… June 7th … Advanced Depth
———-
You can support this ongoing blog at Patreon on a monthly basis. Not per post. Just click on the Patreon image. Thanks for your support.