The New World of Publishing: The Impossible is Now Possible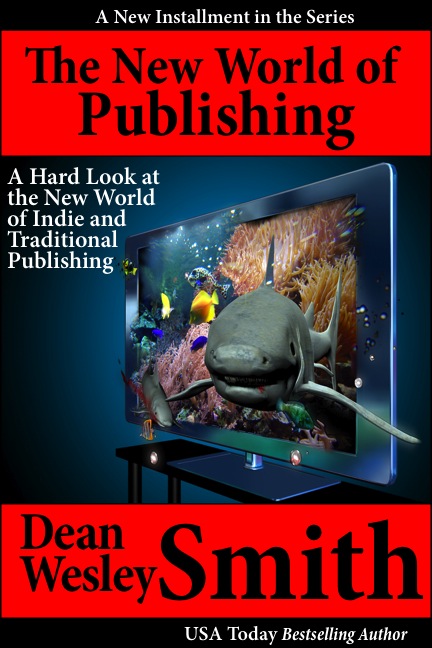 The impossible in publishing really is possible these days.
This new world of publishing has allowed a ton of new things to be possible that would have flat been impossible in traditional publishing. And one of the best illustrations of just one of these now possible things just finished yesterday.
Kristine Kathryn Rusch, my wife, published the last six books of an eight book science fiction saga, one per month starting in January and ending in June.
Now, these are not short books. They range from 60,000 words up to almost 100,000 words long. And they all got reviewed in one place or another and all were up for pre-orders.
The 8-book saga is called The Anniversary Day Saga and is part of Kris's ongoing Retrieval Artist series.
The Start… Traditional
The Retrieval Artist series with Miles Flint as the main character started off in traditional publishing in mass market paperbacks. The publisher published one per year, as was the limit of what they could do with one series.  (Some series now can go to two books a year in science fiction through traditional, but that takes some clout.) But when Kris first sold the Retrieval Artist series, one book a year was all that was allowed in science fiction.
The contracts were for two or three books at a time. And even though the books are all standalone novels, some of the middle books were out of print at various times along the way. All typical for traditional publishing.
And then as the new century started, more typical things happened with traditional publishing and the Retrieval Artist series. Kris managed to get all the rights to the books back. Every one of them.
The Second Life… The New World
As luck would have it, the new world of publishing came along right about the point that Kris got the rights back to the Retrieval Artist books.
And since both fans and Kris wanted to see more Retrieval Artist books, Kris sold the out-of-print Retrieval Artist books to WMG Publishing Inc. and the books all came out with new covers that branded them to science fiction and as a series.
And then a couple of years ago, Kris wrote this wonderful new Retrieval Artist novel called Anniversary Day. She told me at the time she thought it would be two or three books long, sort of sub-series inside the larger series. She sold it to WMG Publishing and it was well-received and reviewed.
Then she wrote book two called Blowback. And that came out of WMG Publishing as well.
But as she started the third book, she realized the story was massive and would take more books. And she had no idea how many because the story was so big.
Here is where the impossible hits. In traditional publishing, she would have had a contract and a deadline for the next book. And she would have forced herself to write something that wasn't that good to try to wrap the story all up.
But she was now working with a publisher who was flexible and could move quickly in the new world. And the publisher wanted her to write what she wanted to write.
So for over one year, Kris wrote the next six books of the Anniversary Day Saga. No deadlines, no pressure. And as she worked, she also talked with WMG about how to deal with having six books come in at once.
That never, ever could have happened in traditional.
A New Reality
Thanks to many authors starting and not finishing series, or taking years to do so, readers have less and less patience these days for waiting. In old traditional publishing, I remember being angry at Farmer for taking so long for the new Riverworld book. Years went by. Anger built at him and I was a fan.
Now readers don't have to wait. And they won't, for the most part, at least not long without anger at the author.
Kris knew that fact had become a reality of this new world, so she wasn't going to even allow the entire Saga to be announced until SHE HAD IT ALL DONE.
Once I had read that wonderful last book called Masterminds, we started talking about how to get these to readers.
Note: In this new world it was the author talking about the control of release dates and how to do it. In traditional, some corporation formula involving accountants and sales force would have dictated how the books came out.
So Kris and the publisher of WMG Publishing, Allyson Longueira, worked on a schedule. They talked about the reasons to release them all at once, one per month, one every other month, one every three months, and so on. They settled on one per month because Kris felt that was better for her fans.
I sat in the meetings, mostly just stunned at how many steps were in the scheduling once the schedule for release had been set. They sent out ARCs to reviewers, they did ads, and they got interest in the earlier published Retrieval Artists books. All of that was done to a master schedule that didn't allow a deadline to be missed by even a day at any point along the way.
They also sat up pre-orders for each of the last six books and re-released Anniversary Day and Blowback with new covers. In essence, all eight books of the Saga came out in a matching branded edition over an eight-month period.
Kris finished the entire saga in the summer last year. The last book came out Tuesday (June 9, 2015).
Even though WMG Publishing is a mid-sized publishing house with lots of authors, it is because of this new world of publishing that allows a new publisher such as WMG to be flexible with projects.
Kris would have never been allowed to write the Saga in traditional publishing. And after you have read it, you will realize how much of a crime that would have been.
In my opinion, it is the best science fiction story (all eight books together) written so far this century. It is a stunning work of plotting and balance of a wide cast of characters.
So if you want to read a project that flat would not have been possible in old publishing, or modern traditional publishing, but happened because of the new world of publishing, head to your favored book dealer and order Anniversary day and get set for some fantastic summer reading.
And when done, I'm betting you will agree with me that the impossible in this new world of publishing is a pretty darned cool thing.
For a full list and covers of all eight books, go to TheRetrievalArtist.com