The Magic Bakery: Chapter Three
Chapter Three…
How do you slice a magic pie? The answer is simply as many ways as you want.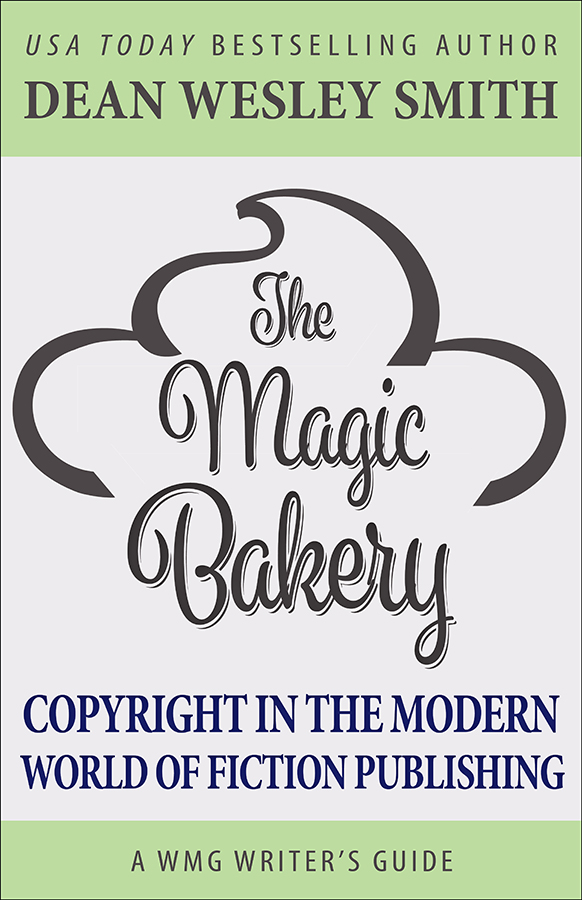 The wonderful thing about copyright is that you can license any part of it. And you can name the part and dictate the terms and define the shape of the part.
I know this is difficult to imagine. And the pie analogy sort of falls apart because pie is a physical thing that can only be sliced in so many ways.
But image the pie is solid and you have a saw that can slice off a piece so thin you can barely see the slice under a microscope.
Yup, you can do that with a magic pie.
Honest.
A few broad examples…
Say you were approached by a publisher in a small country you had to go to Google to find on the map. The publisher wanted to translate and print your book only in that country's language. And only in hardback with dust jacket. And only five hundred copies. And only for one year.
You figure out where the country is at and say sure. The contract comes and you get your saw and slice off a tiny, tiny thin license. Translation rights into (country's language only) for hardback only for a run of 500 copies only for only a year.
In a year that tiny, tiny slice will reappear back in the magic pie of copyright for that novel and you can sell it again.
Or say you have a novel headed into a game or movie. You have retained all toy rights. So a manufacture of resin busts comes to you and wants to license the right to make busts of your characters in a limited edition run of one thousand copies signed by the artist.
Out comes the saw and you slice off a tiny, tiny thin license for resin character busts for a limited one thousand copies. And you sell the plush license to the characters to another company and the action figures of the characters to another company and so on and so on.
All limited-time licenses because you understand copyright and contracts.
My wife, Kristine Kathryn Rusch, on her blog, did most of a year about publishing contracts and there is now a book out of those blogs. That is all basic stuff, but you have to know the basics before you can learn how to use the saw to cut tiny, tiny thin pieces.
And you can not do that if you have allowed the magic pie to leave your control, your Magic Bakery.
Some Horror Stories from the Magic Bakery
These are about magic pies leaving your bakery.
First off, agents, especially book and Hollywood agents, are not your friends folks. Avoid at all costs. All horror stories start and end with the word "agent."
I am not kidding.
Here is a real-life Magic Bakery horror story. Agent sold a writer's novel series to Hollywood. The writer was uninformed about how copyright really worked and the agent was either a crook or stupid or didn't realize what he was doing. Take your pick.
The contract the writer signed sold (not licensed) the Hollywood studio rights to the books in the series. What the writer didn't know about what his agent told him to sign was that it also gave away all control of his characters.
And Hollywood didn't want him writing any more of those characters since they controlled them. Writer lost in the court. He signed the contract.
In other words, what the writer did was stand behind the counter of his Magic Bakery and watch the Hollywood agent carry his magic pie out of the door and take it to another store to make money for someone else.
Another real story.
Remember a writer by the name of Clancy? Wrote this novel called The Hunt for Red October that became a major bestseller and a movie. It had a character in it called Jack Ryan.
Clancy stood behind his counter and watched the magic pie leave his bakery for $500 dollars total. Someone else sliced up the pie as they wanted and the pie become a bestselling book and then a movie. Eventually Clancy sued for the right to even use Jack Ryan as a character again in another book.
They settled and he had to pay to use his own character.
Why? Because he let the magic pie that was The Hunt for Red October leave his store to make someone else money.
I bet I could come up with another twenty of these horror stories just off the top of my head. After forty years in this business I have heard so many of them it makes me sick.
Staying with the Analogy
You have a recipe for a wonderful magic pie. You go to all the work to create that pie and use special ingredients that make that pie special.
Then not only do you sell the magic pie you created and let it leave your business, you sell the recipe to the pie as well and all the ingredients. And you sell the right to ever make anything similar to it again.
Why would anyone do that?
I ask myself that every day because it happens hundreds, if not thousands of times every day in Magic Bakeries all over the world.
Writers do not know what they have, do not understand the value of the golden goose that is the story or novel they created.
So they sell their magic pie for all rights for the life of the copyright to a major publisher. Movie rights, toy rights, translation rights, video, audio, electronic, paper, and on and on. All making someone else money.
And even worse, the writers often sign a contract saying they will not go back and make more magic pies without permission from the buyer of the last magic pie.
Might as well shut that Magic Bakery down. It is finished.
Go to any convention and watch the young writers flocking to agents, listen to the discussions about how to break into traditional publishing.
Then as you listen, realize what they are working so hard to do is make sure their magic pie leaves their magic bakery.
Summary Statement…
Never ever let your entire magic pie out of your control.
License slices only and then for a limited time only.
Nothing more.
And slice the pieces you do license very, very thin. As thin as you can.
And then keep making new magic pies to fill the shelves.