The Magic Bakery: Chapter Six
Chapter Six…
I get questions all the time about free. Should an author put up their book for free? How about their first book in a series? Does leaving something up for free forever work?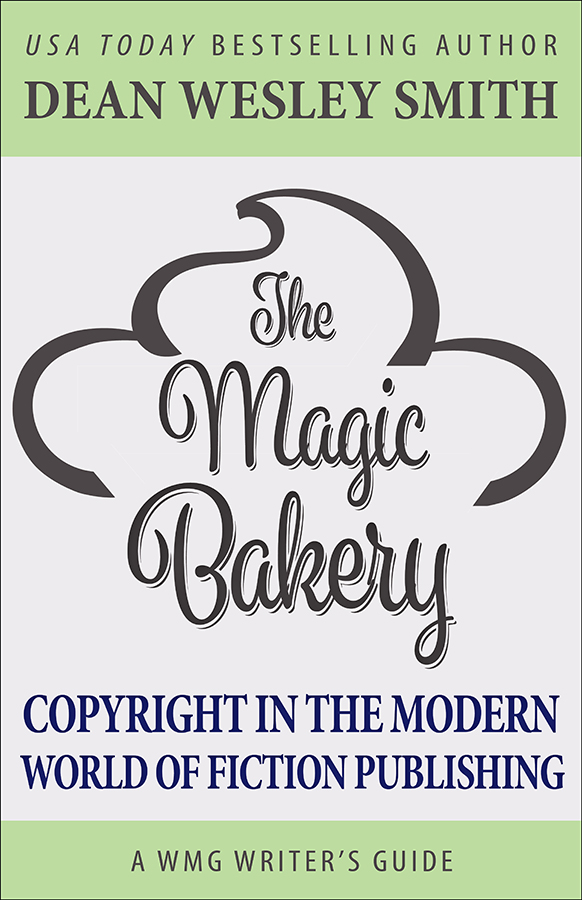 Interestingly enough, The Magic Bakery works perfectly to illustrate the answer to these questions so writers can decide for themselves.
All I'm going to be talking about in this chapter is basic, standard-retail sales practices. I won't tell you one thing new in the world. You can see some of these practices working every day from grocery stories to music stores.
But explaining these practices to authors who do not understand basic sales of retail has been an issue. And thus extreme myths have built up around the use of free in book sales.
And it seems everyone has an opinion, often not based on anything but "It worked for me for a little bit."
So using The Magic Bakery, let me show you some of the simple ways that free can be an effective sales tool for your products.
And some of the really boneheaded ways to use free that will hurt your business.
Copyright in Free
One quick point here in this book focused on mostly understanding copyright. When you give a story or book away for free, you do not lose the copyright protection on that work in any way.
My Basic Rule of Thumb About Free
Nothing ever sits on a bookstore shelf, real-wood shelf or electronic shelf, for free.
It is a very simply rule and when I say that to someone they automatically think I am against free. I am not. I am against using free in a poor business way. I use free all the time to help sales, as does WMG Publishing.
So now to the Magic Bakery to illustrate why this rule works for me and for others.
First, a simple positive way to use free…
A customer comes into your bakery. You have a wall of about twenty pies that are your novels, some are grouped together because they are series pies. All are priced. You may have a reduced price on a few first pies, but all are priced in a reasonable and fair manner.
You have a large counter in the middle of the room of short story pies, smaller and at a lower price than the larger pies on the wall.
You have specials you are running around the cash register.
And there, beside the specials, near the cash register, on top of a glass counter, you have a plate of bite-sized pieces of your latest creation for readers to sample.
The sign under that plate says "Take one."
You have maybe a dozen pieces on the plate with small plastic forks and when those pieces of pie are gone, you take the plate to the back to wash. The idea is to get customers, for free, sampling your work so they will buy.
This form of use of free is standard in almost every form of store. You see this a lot in grocery stores. And in bakeries.
For authors, we do this as sample chapters in the back of another book.
Or free short stories for a week on a web site. And so on. Lots of ways to give limited, small samples in this modern world.
The key in sales are LIMITED and SHORT TERM.
Keep free short term and limited and never put it on a bookshelf anywhere.
Now the wrong way to use free…
A customer walks through your door and you have a wall of twenty pies in glass cases, all the smaller short story pies in a case in the center, and some specials near the cash register.
And there on your wall are three pies that say, "Free."
And a bunch of short stories that are "Free."
The customer can take an entire pie for free or buy one. As a customer, what would you do? Duh. You take the free pie and leave.
(Or you question the value of any of the pies and leave without anything.)
And, because of copyright, the pie is still sitting there after someone takes it for free. Magic Bakery, remember? So more and more people start hearing you are giving away free pies in your magic bakery.
And pretty soon your customers start to change. The only people who come through the door are people who only want the free stuff. They would never buy something under any circumstances, but you are giving your pies away for free, so they take one.
Pretty soon there would be lines out the door to get your free pies and you would make nothing. The free takers would crowd out and devalue the pies you are trying to sell.
That is the wrong use of free for any reason you may want to make up to justify it.
Now discounting is another topic. There are ways to discount first books in series to entice buyers into getting into a series. This is also a common practice in most stores, actually.
A Personal Example…
I live in a small town that has a huge discount mall. Now all smart shoppers know that the big chains mark up the prices before lowering them for the discount stores. Makes the "discount" price look better to those looking for deals.
Now I use the mall as a place to walk on rainy days. And at times, I go into stores to look around. The stores have their "discount" racks clear to the back. The discount racks are what is left of the normal merchandise that hasn't sold and they are just trying to clear.
But to get to that actually discounted stuff, I have to walk through their entire store. And every-so-often, that sales trick gets me and I see something I don't mind paying full price for.
That is a standard retail trick of discounting to get a customer in to buy other stuff.
But not one place in any of those stores is there a free item. Why not? Because they are all businesses, that's why not.
Writers need to learn how to act and think like regular business people.
So How to Use Free in Your Bakery?
A one-day give-away of one of your pies. Only for a very limited time and only for a very limited number.
I try not to laugh in writer's faces who tell me they have "sold" twenty thousand books and when I ask, they actually gave away that many books.
Free is not a sale.
Free is free. A sale is when you make something from the exchange. So follow basic retail practices. If you are going to give something away for free, do it for a short time and a limited number.
And then make it special.
And again, never put it on a shelf of any bookstore.
Once again, over the years, I have tried not to laugh when writers go on about how to game Amazon's system and get their book there for free. I have laughed many times, but not in the writer's faces, luckily.
You ever wonder why you have to game the smartest business on the planet at the moment to get something on their shelves for free? Oh, let me think… They don't make any money.
Yet they are a business. You are taking up their shelf space with something that makes them no money.
You walk into our Pop Culture Collectable stores here in town and there isn't one thing on the shelves for free. So do we give things away at times? Sure. Free comic book day once a year. Things like that. Promotions that are limited and short term to bring customers into the store to buy other things.
Limited and short term.
There is no reason at all for us to go to the time and energy to get inventory and then put it on our shelves for free. No reason for any business to do that.
And certainly no reason for you to do that in your Magic Bakery.
Just imagine walking into a pie shop and there is a wall of pies that all look great, and five or six of them say, "Free" under it. Try to imagine that.
If you can't imagine that, good. But if you want to start learning how to use free correctly, then start looking around at other businesses outside of electronic books and see what they do with free.
In the business and sales world, free is a powerful, powerful tool if used correctly and for the right reasons.
Make sure your Magic Bakery is a place someone can come to buy your wonderful work. And that free is used in ways (not on the shelves of your bakery) to entice buyers into your bakery.
Free is short time, limited supply, and never on the major bookstore shelves.
Simple Magic Bakery rules-of-thumb that are nothing more than standard retail business practices.