I Promise I Won't Do This Every Day…
But for the first story, I figured it was worth mentioning. And more than likely I'll talk about the challenge once a week or so as it is going on. And post small thumbnails of covers.
So for story #1 I wrote a story I needed to write for the Year of the Cat #11. It is called "Cat Running Wild" and it is a Pahket Jones story, who is a spin-off of my Poker Boy and Ghost of a Chance series. I have done 7 Pahket Jones stories so far. She is a superhero in the world of cats.
Story was started around 10:30 pm on the first. I took some time to do other things and write a blog and I finished it in about three hours of typing time. It came in around 3,600 words. I left the manuscript on the kitchen counter and Kris read it this morning and liked it for the book. Yay!
Then after I finished it I spent about 15 minutes doing a cover for it for after it is in the Year of the Cat #11 book. Here is the cover below. This one needed a photo because the cat is bright orange and this very cat and look that is in the photo. I normally never use photos for fiction, but this one sort of demanded it.
I also did a wrap around cover for it as well in the 15 minutes.
I am going to try to do covers for every story I do every night. Will make it a lot easier later.
Blog was about 1,100 words that night and the story was 3,600 words, so about 4,700 words on the first day. About right.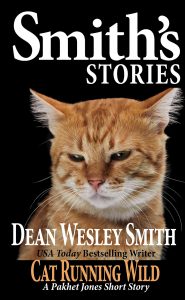 I have already finished a Bryant Street story for the second day and it came in around 4,700 words and took me 3.5 hours to write. My blog was 600 words, so second day was 5,300 words.
This blog for the third day will be shorter, more than likely around 350 words.
Here is the cover for the first story in the challenge.