SOME WRITING BELIEFS
Just trying to be clear on some of my beliefs. See below.
——-
THE DAY
Made it to the WMG offices around 2 p.m. for a meeting at 2:30 to work on planning the layout of the new store. Great fun.
At 4 p.m. went walking with two other professional writers. And yes, got my ten thousand steps today for the first time in over a week.
Back to WMG offices to work on moving the workshops and getting the February online workshops ready to go. First letters will go out late tomorrow night. Workshops start on Monday and still room in all of them.
Then to the grocery store, then home to cook dinner. Then a very long nap after trying to get started on the novel. Brain dead completely.
Some television, then back in here around 1 a.m. to try again. This time I finally got things moving. I wrote one section in about 40 minutes of 900 words.
Took a break, went back and wrote another 1,150 words in just under an hour.
So back up and running. Book finally returned to my head. So 2,050 words. I'll take it.
And stopping now even though the night is early for me because for the second night in a row a storm is pounding us. The Oregon Coast is living up to its reputation this winter.
———–
February Online Workshops Start on February 1st!
That's Less Than One Week Away!!!
All of the February Online Workshops marked below have openings. Click the workshop tab above for description and sign-up or go to www.wmgpublishingworkshops.com.
Each regular workshop is six weeks long and takes about 3-4 hours per week to do at your own pace and your own time.
All workshops have openings.
Class #11… Feb 1st … Advanced Depth
Class #12… Feb 1st … Character Voice/Setting
Class #13… Feb 1st … Adding Suspense to Your Writing
Class #14… Feb 1st … Ideas into Stories
Class #15… Feb 2nd … Character Development
Class #16… Feb 2nd … Depth in Writing
Class #17… Feb 2nd … Plotting With Depth
Class #18… Feb 3rd … Designing Covers
Class #19… Feb 3rd … Writing and Selling Short Stories
Class #20… Feb 3rd … How to Write Science Fiction
Classic Workshops and Lectures are also available at any time.
———
Topic of the Night: Writing Beliefs
After the comments and such from the last couple of days, I thought I should quickly just lay out my beliefs about writing that I hope are clear here most of the time.
1… I believe anyone with the desire and drive can learn how to write and sell professional level stories. It takes time, there are no shortcuts, but it is possible. Everything I talk about on this blog is toward long term career writers and helping writers make sane decisions in that direction.
2… I believe that education on business and craft is a continuing process that never ends for writers. Sadly, many writers get to a place where they think they don't need to learn anymore, usually prefaced with some excuse like "it will hurt me." I believe those writers are doomed in short order.
3… I believe writers should write what they want. If that is chasing the most recent fad, fine, if it is what the writer wants to write. But most times writing what we want is from our passion and often doesn't match a recent trend in sales.
4… I believe that if you don't quit, keep writing to passion, keep learning, eventually the money and career will come. The learning has to be in both the business and the craft.
5… I believe that any writer who wants to be taken care is a fool and will be taken care of eventually, but not in the way they want. If you don't want to learn the business you want to work in, I believe you have passed from fool to pure idiot.
6… I believe a writer's dreams are very, very important and worth time, money, and energy to help along. I believe that people around us who try to hold us back should be booted out the door, even if they are family. Sometimes a writer's dreams, in my opinion, are worth more than family who want to hold you back.
7… I believe children are more important than anything, including your writing dreams. Pay attention to your children. You can write when they are gone. Writing will always be there, children will not be.
8… I believe in helping other writers move along the road they want to walk. I have no desire to have people walk the road I have walked. I did it my way in my time. Do it your own way in your time. That's what I try to help you with.
9… I believe a writer should be paid for their time and skill and craft and years of learning. In the same breath, I do not think a writer should ever devalue their own work, even as a beginner. Actually, especially as a beginner.
10… I believe the saddest people on the planet are the people who have not had the courage to move toward their own dreams and have let crappy jobs and bad friends and family hold them back. Fear of learning, fear of change, fear of risk are tragic when they get in the way of chasing your dream.
All just my beliefs and opinions. For what they are worth.
——
The Writing of Dead Hand: A Cold Poker Gang Mystery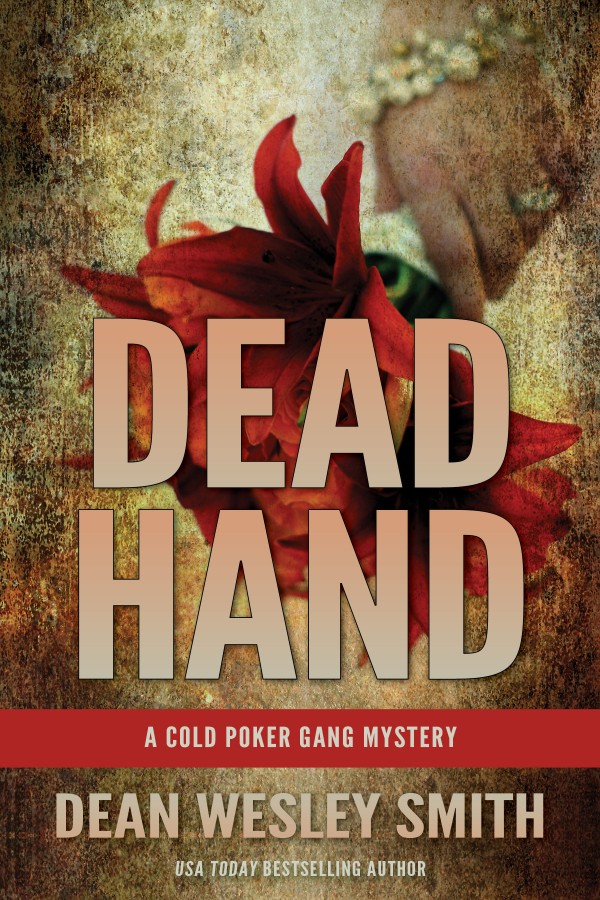 (Shortened down because I have a hunch this is going to take some more days to finish.)
Day 11.. 3,200 words. Total words so far… 19,000 words.
Day 12.. 2,100 words. Total words so far… 21,100 words.
Day 13.. 1,050 words. Total words so far… 22,150 words.
Day 14.. 2,300 words. Total words so far… 24,450 words.
Day 15.. 1,500 words. Total words so far… 25,950 words.
Day 16.. 3,200 words. Total words so far… 29,150 words.
Day 17.. 1,100 words. Total words so far… 30,250 words.
Day 18.. 2,150 words. Total words so far… 32,400 words.
Day 19.. 1,700 words. Total words so far… 34,100 words.
Day 20.. 1,100 words. Total words so far… 35,200 words.
Day 21.. 1,050 words. Total words so far… 36,250 words.
Day 22.. 2,050 words. Total words so far… 38,300 words.
——
Totals For Year 3, Month 6, Day 26
Writing in Public blog streak… Day 859
— Daily Fiction: 2,050 original words. Fiction month-to-date: 14,300 words
— Nonfiction: 00 new words. Nonfiction month-to-date total: 1,200 words
— Blog Posts: 700 new words. Blog month-to-date word count: 14,400 words
— E-mail: 14 e-mails. Approx. 400 original words. E-mails month-to date: 532 e-mails. Approx. 22,900 words
— Covers Designed and Finished: 0. Covers finished month-to-date: 3 Covers
——–
You can support this ongoing blog at Patreon on a monthly basis. Not per post. Just click on the Patreon image. Extra stuff for different levels of support and I will be adding in more as time goes on. Thanks for your support.
Or you can just toss a tip into the tip jar with a single donation at PayPal. Either way, your support keeps me going at these crazy posts.
And thanks.


If you would like to leave a tip just hit Paypal.me/deanwesleysmith (Goes to WMG Publishing account, but I'll get it just fine.)