September Online Workshops Starting
September Online Workshops Starting
And there is still room in all of them including the new Speed workshop.
It's a really good list of workshops. The new mystery workshop, the new expectations workshop, the new speed workshop. Dialog, cliffhangers, pacing, depth, and author voice, plus how to write thrillers.
Click the workshop tab above for description and sign-up or go to www.wmgpublishingworkshops.com.
Questions about any of the workshops, feel free to write me.
Class #21… Sept 6th … Author Voice
Class #22… Sept 6th … How to Write Thrillers
Class #23… Sept 6th … Speed
Class #24… Sept 6th … Writing Mysteries
Class #25… Sept 6th … Character Development
Class #26… Sept 7th … Depth in Writing
Class #27… Sept 7th … Advanced Character and Dialog
Class #28… Sept 7th … Cliffhangers
Class #29… Sept 7th … Pacing Your Novel
Class #30… Sept 7th …Expectations (Writing on the Rails)
——————-
Bundle Update
The Epic Fantasy Bundle is going strong! Kris has a full novel in it called Heart Readers and it also has novels by Allen Drury, Brandon Sanderson and Tracy Hickman, among others.
And it has Fiction River: Unnatural Worlds in it. Kris and I edited this one and it's a great one. You can get the bundle at http://storybundle.com/fantasy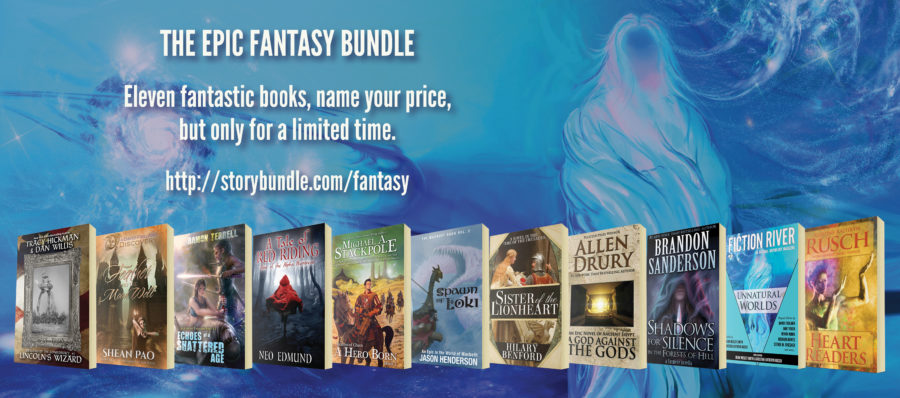 —————-
Kickstarter Update
The Second Fiction River subscription drive on Kickstarter is doing fantastic! We have already made two stretch goals now. Thank you, everyone!!
By making the first stretch goal, everyone who gets a subscription through Kickstarter gets an extra volume added to their subscription. So if you signed up for a six volume subscription, now you will get seven.
And by making the second stretch goal, we are going to do a special Fiction River Presents called "Readers Choice" and send a free copy to anyone who has supported us through the Kickstarter subscription drive. So an entire free volume for everyone. Fun, huh?
So thank you, everyone, for all the support. And writers, take a look at the writing books available and also the workshop and lectures available with subscriptions. Just click on the Kickstarter logo in the widget to the upper right.
Kris has been doing some really fun movie trailers type videos showing different aspects of Fiction River and the writers who write for Fiction River. Take a look at this one, the Strange Stories of Fiction River.
—————-
Totals For Year 4, Month 2, Day5
Writing in Public blog streak… Day 1,082
Over 10,000 steps streak… Day 67
Running Miles This Month… 1 miles
— Daily Fiction: 00 original words. Fiction month-to-date: 00 words
— Nonfiction: 00 new words. Nonfiction month-to-date total: 00 words
— Blog Posts: 200 new words. Blog month-to-date word count: 1,800 words
— E-mail: 29 e-mails. Approx. 2,700 original words. E-mails month-to date: 70 e-mails. Approx. 4,100 words
— Covers Designed and Finished: 0. Covers finished month-to-date: 0 Covers
———-
— Year of Short Fiction Goal: 120 stories (July 1st to June 30th). Stories finished to date: 8 stories.
— Yearly Novel Goal: 12 Novels. Novels finished to date: 2 novels.
——–
You can support this ongoing blog at Patreon on a monthly basis. Not per post. Just click on the Patreon image. Extra stuff for different levels of support and I will be adding in more as time goes on. Thanks for your support.
Or you can just toss a tip into the tip jar with a single donation at PayPal. Either way, your support keeps me going at these crazy posts.
And thanks.