Second Day of Exercise and Fun Pictures
Just As With Writing Restart…
I am ramping up slowly. I spent my first week here in Vegas resting and working around the condo. Kris would go off to one of the gyms to run and I would go with her and explore the area or do errands.
This week, starting yesterday, I got on the exercise clothes (what a slightly overweight 67-year-old wears… sweat pants and a baggy tee-shirt) and went with Kris to the gym. I walked the track while she ran, doing about three miles. And actually ran about 1/8th of a mile to see how it felt. (awful)
Today I went again with her and ran about a quarter of a mile total and walked a couple miles on the track. Running felt better today and I actually ran with Kris one full lap. (I am proud of that, actually.)
I am purposely not pushing. And wow am I eating healthier as well. Down two pounds in one week and want to maintain that pace.
So ramping up slowly.
———
Want to see a couple nifty pictures of some professional fiction writers?
The first one is of professional writers J. Steven York, Chris York (mystery writers Christy Fifield and Christy Evans), and Kristine Kathryn Rusch (also Kris Nelscott and Kristine Grayson). Lot of pro writers in this picture. They are at Hamilton here in Las Vegas.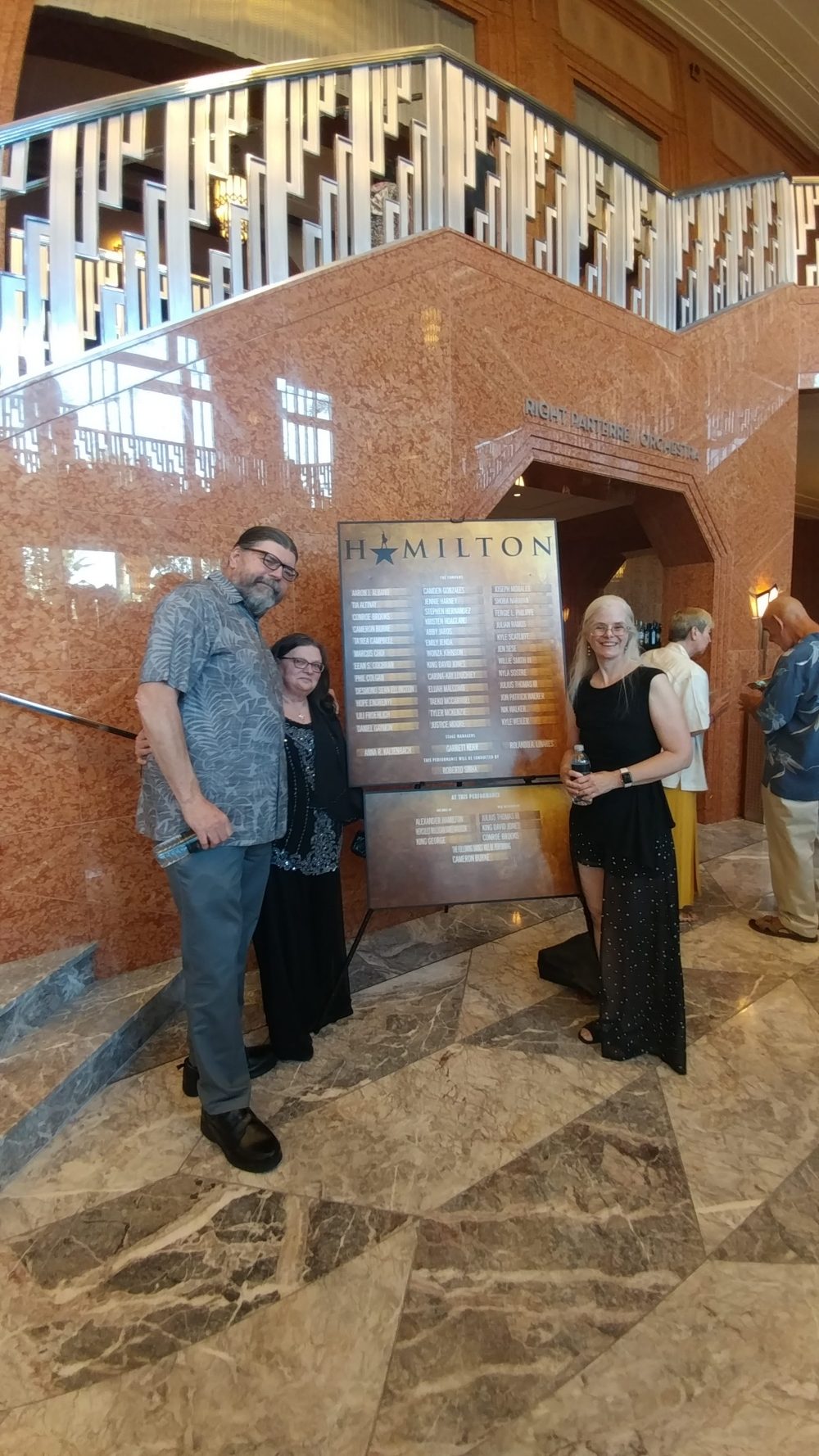 Next picture is of Kris messing around in front of the theater with Chris York giving her "a look." I have been known to give Kris that look at times as well. But honestly, she gives me that look just as often. This photo by J. Steven York, who was correctly staying out of it all.
Monthly Regular Workshops…
You can find them under Online Workshops to the right of this post. Sign up for July on Teachable.com. For credits or workshops beyond July, write me and pay through Paypal.
Each regular workshop is 6 weeks long.
Again, it will take you about three hours per week on your own pace to do each of these if you do the assignments. These are the starting dates of upcoming regular workshops.
All have openings at the moment.
Class #1… July 10th … Depth #3: Research
Class #2… July 10th … Author Voice
Class #3… July 10th … Dialog
Class #4… July 10th … Writing into the Dark
Class #5… July 10th … Writing Fiction Sales Copy
Class #6… July 10th … Writing and Selling Short Stories
Class #7… July 11th … Depth in Writing
Class #8… July 11th … Business
Class #9… July 11th … Writing Fantasy
Class #10… July 11th … Information Flow
Class #11… July 11th … Magic Bakery
Class #12… July 11th … Advanced Depth
Again, if you don't have credits, sign up direction at Teachable.