New Bundle Starting! One Ending!
New Bundle Starting and One Fantastic Bundle Almost Done
Last Day on a Great Bundle!!
Just one day left. Click on the image on the left to go directly to the bundle. Don't miss this one.
New Bundle!!
There is a fantastic fantasy bundle just starting. It's called The Epic Fantasy Bundle. Kris has a full novel in it called Heart Readers and it also has novels by Allen Drury, Brandon Sanderson and Tracy Hickman, among others.
And it has Fiction River: Unnatural Worlds in it. Kris and I edited this one and it's a great one. And since we are doing a , this bundle would be a great way to get a copy of Fiction River, take a look to see if you like it, and then get a discount on a subscription through the subscription drive.
You can get the bundle at http://storybundle.com/fantasy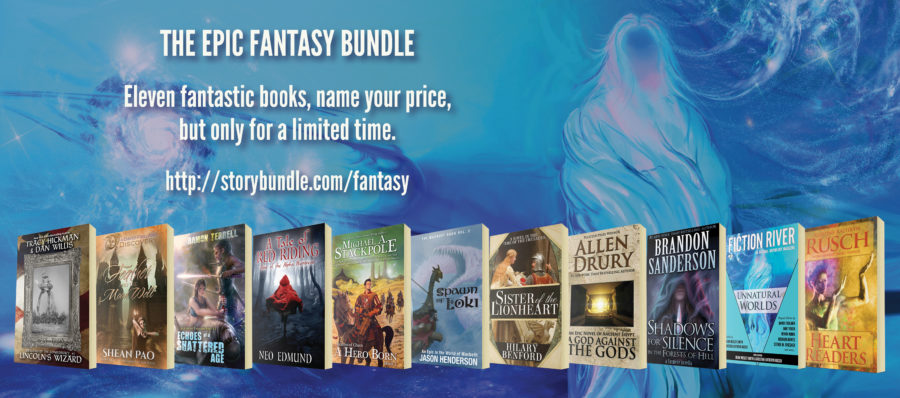 September Online Workshops Start Tuesday
And there is still room in all of them including the new Speed workshop. Go figure.
I mailed out letters to everyone signed up for the September workshops, so if you think you are signed up and didn't get a letter from me, write me..
As I said, still lots and lots of room in all the workshops.
Topic of the Night: Saturday Night
Nope, no topic tonight even though I have a few. (grin).
———-
September Online Workshops

They start on Tuesday!!!
Click the workshop tab above for description and sign-up or go to www.wmgpublishingworkshops.com.
Questions about any of the workshops, feel free to write me. There is room in all of them at the moment.
Class #21… Sept 6th … Author Voice
Class #22… Sept 6th … How to Write Thrillers
Class #23… Sept 6th … Speed
Class #24… Sept 6th … Writing Mysteries
Class #25… Sept 6th … Character Development
Class #26… Sept 7th … Depth in Writing
Class #27… Sept 7th … Advanced Character and Dialog
Class #28… Sept 7th … Cliffhangers
Class #29… Sept 7th … Pacing Your Novel
Class #30… Sept 7th …Expectations (Writing on the Rails)
—————-
Totals For Year 4, Month 2, Day 3
Writing in Public blog streak… Day 1,080
Over 10,000 steps streak… Day 65
Running Miles This Month… 1 miles
— Daily Fiction: 00 original words. Fiction month-to-date: 00 words
— Nonfiction: 00 new words. Nonfiction month-to-date total: 00 words
— Blog Posts: 200 new words. Blog month-to-date word count: 1,500 words
— E-mail: 8 e-mails. Approx. 300 original words. E-mails month-to date: 33 e-mails. Approx. 1,100 words
— Covers Designed and Finished: 0. Covers finished month-to-date: 0 Covers
———-
— Year of Short Fiction Goal: 120 stories (July 1st to June 30th). Stories finished to date: 8 stories.
— Yearly Novel Goal: 12 Novels. Novels finished to date: 2 novels.
——–
You can support this ongoing blog at Patreon on a monthly basis. Not per post. Just click on the Patreon image. Extra stuff for different levels of support and I will be adding in more as time goes on. Thanks for your support.
Or you can just toss a tip into the tip jar with a single donation at PayPal. Either way, your support keeps me going at these crazy posts.
And thanks.