New Bundle Out

Many of you know I have written some thrillers over the years. The main one I can claim is Dead Money. A poker-based thriller. It sort of was the anchor to my mystery series called The Cold Poker Gang series.
However, under a pen name a while back in time I wrote a thriller set on and around a golf tournament. Yup, not kidding. (Remember, I used to be a PGA golf professional.) And the original book had sex in it, sort of graphic sex, actually, because that was the basis and slant of the publisher I wrote it for.
So it was a sex golf thriller. I am not kidding. That's okay to laugh at that. I sure did.
It was published under a pen name and after the company shut down their book line, they generously reverted the rights.
So I took the sex scenes out and serialized the book over numbers of issues in Smith's Monthly. The book is called An Easy Shot.
Now the golf thriller is in a bundle with some wonderful other thrillers plus an issue of Fiction River of thriller short stories edited by Kevin J. Anderson. (And in that Fiction River is an original, never published before, story by Frank Herbert. Not kidding there either.)
This is a bundle you don't want to miss. And in the process of reading all the wonderful novels in the bundle, I hope you enjoy both the wonderful stories in Fiction River: Pulse Pounders and my very strange but fun golf thriller, An Easy Shot.
http://storybundle.com/thriller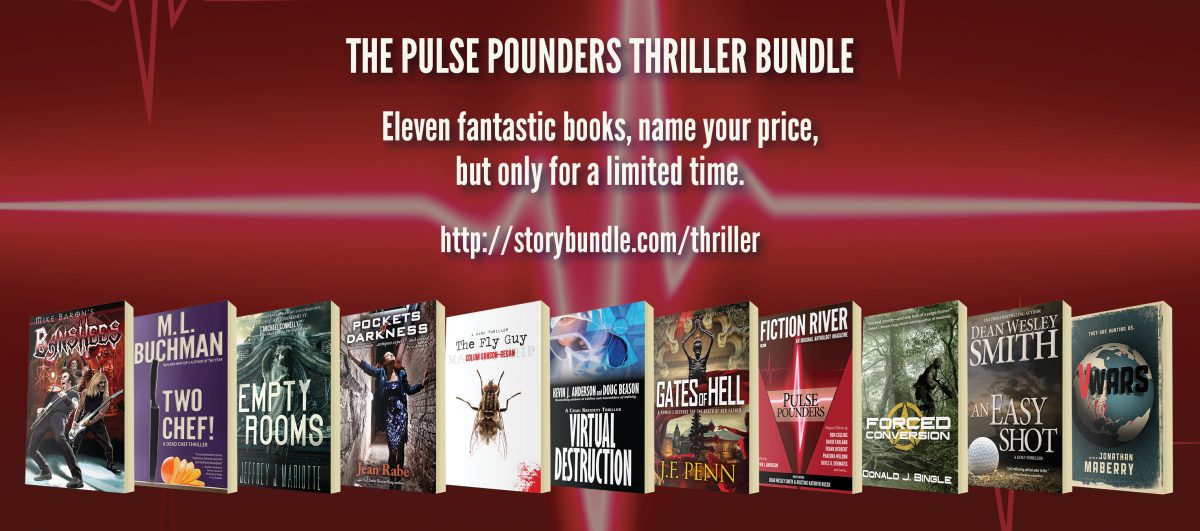 The Day
A very different day today. I started off by selling one of our vans since we bought a car last week, then meetings, then another meeting, then home to cook dinner, then email and then back working on workshop stuff for the coming Master Class.
Tomorrow I will deliver the car, work on workshop stuff all afternoon and early evening, do taxes, and more workshop stuff. Some day all this will be finished and I will actually get back to writing.
But speaking of workshops, the next few days I will also get out the letters to the supporters of the Kickstarter Fiction River drive. That includes those who signed up for workshops through that drive. So got a hunch a few of the November and December online workshops might fill up.
So if you are not part of the kickstarter drive and are looking at taking an online workshop in November or December, jump in now. I will keep everyone informed if some of the workshops start to fill up.
———————
November Online Workshops

Click the workshop tab above for description and sign-up or go to www.wmgpublishingworkshops.com.
Questions about any of the workshops, feel free to write me. Almost no one is signed up yet. I will be writing all the Kickstarter people who got the workshops that way later this week. At that point, some of these might fill up.
Class #41… Nov 1st … Author Voice
Class #42… Nov 1st … Point of View
Class #43… Nov 1st … Adding Suspense to Your Writing
Class #44… Nov 1st … Ideas
Class #45… Nov 1st … Character Development
Class #46… Nov 2nd … Depth in Writing
Class #47… Nov 2nd … Advanced Character and Dialog
Class #48… Nov 2nd … Cliffhangers
Class #49… Nov 2nd … Pacing Your Novel
Class #50… Nov 2nd …Expectations (Writing on the Rails)
Classic Workshops and Lectures are also available at any time.
If you are wondering what order would be best to take some of these workshops, we have done a curriculum for the workshops. You can see that at https://deanwesleysmith.com/workshop-curriculum/
————————————
Totals For Year 4, Month 3, Day 12
Writing in Public blog streak… Day 1,119
Total Miles This Month… 61 miles
— Daily Fiction: 00 original words. Fiction month-to-date: 00 words
— Nonfiction: 00 new words. Nonfiction month-to-date total: 00 words
— Blog Posts: 400 new words. Blog month-to-date word count: 4,100 words
— E-mail: 11 e-mails. Approx. 1,100 original words. E-mails month-to date: 219 e-mails. Approx. 14,400 words
— Covers Designed and Finished: 0. Covers finished month-to-date: 1 Covers
———-
— Year of Short Fiction Goal: 120 stories (July 1st to June 30th). Stories finished to date: 8 stories.
— Yearly Novel Goal: 12 Novels. Novels finished to date: 2 novels.
——–
You can support this ongoing blog at Patreon on a monthly basis. Not per post. Just click on the Patreon image. Thanks for your support.