A Celebration
I want to have the 36th issue out of Smith's Monthly this month. (Go ahead, try to wrap your brain around that. A novel, four or five short stories, serial novel, all mine, every month for 36 months. Yeah, go ahead, imagine doing that. (grin))
Why this month? Because this is the 36th month since the first Smith's Monthly came out.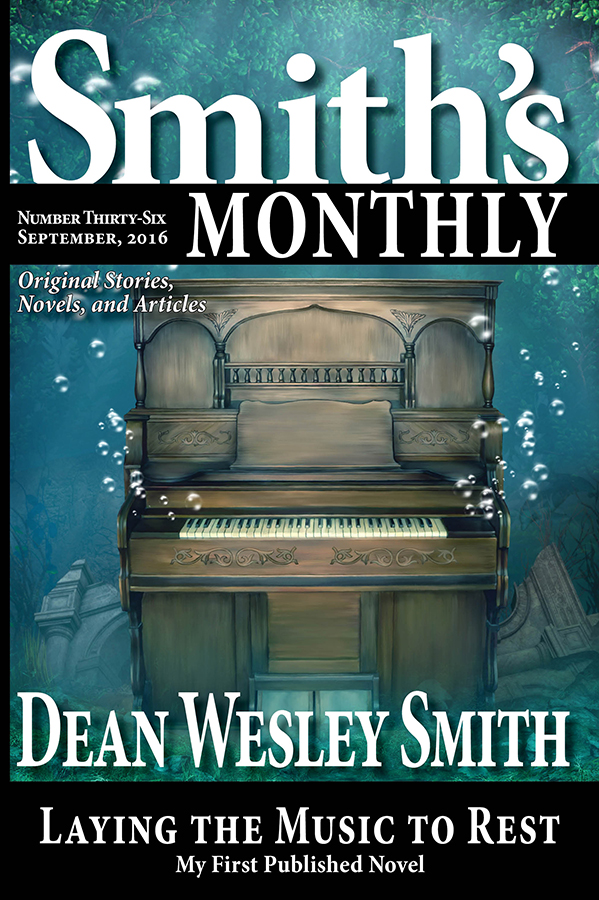 So since the writing is slow at the moment due to massive amounts of other things which will clear shortly, I decided to put my entire first published novel, Laying the Music to Rest, in the 36th issue. Thought that would be cool.
I had been serializing the novel with a part every month for the past six months, but instead of putting in the last two parts over the next few months, I figured it would be better to just put the entire thing in. (Plus a couple people asked me to do that.)
I am still impressed I am about to turn in the 36th issue of Smith's Monthly. No writer in the history of publishing has had his or her own magazine where the writer fills every word month after month.
Thanks for all the support of the magazine. I really do appreciate it. Onward to #37 after this one.
Laying the Music to Rest
I wrote the novel in 1987, sold it in the spring of 1988, and it came out in 1989. So I wrote the book almost thirty years ago. It was my third written novel, the first two were lost in a house fire.
I decided to let the book stand as it was published, so I gave the paperback to a person to type in. We changed nothing from the original book and I honestly haven't reread it.
All the time I get people asking me if they should fix older stories because they learned something. My answer is always to face forward and let the older stories just be what they are, a picture of your skill at a moment in time.
I am doing just that right here. I could have spent a month going back over the book, but chances are I would have ruined it. So it stands as I wrote it.
One thing fun about this book is that you can see glimpses of my future writing and series in it. It's set in the Thunder Mountain region of Idaho, but is not part of my Thunder Mountain series that didn't start until 25 years after I wrote this book. My main character is named "Doc" which is not the same Doc from my thriller and mystery books.
In this book I did a time loop trap, the first time it was done like that in science fiction, ever, and a decade before Groundhog Day movie. I also have the Titanic in the book long before Cameron and his movie made it popular.
And ever wonder where the phrase "turned down" came from. Well, I explain it in this novel. (grin)
The book is a fun artifact and from what people tell me a pretty good read.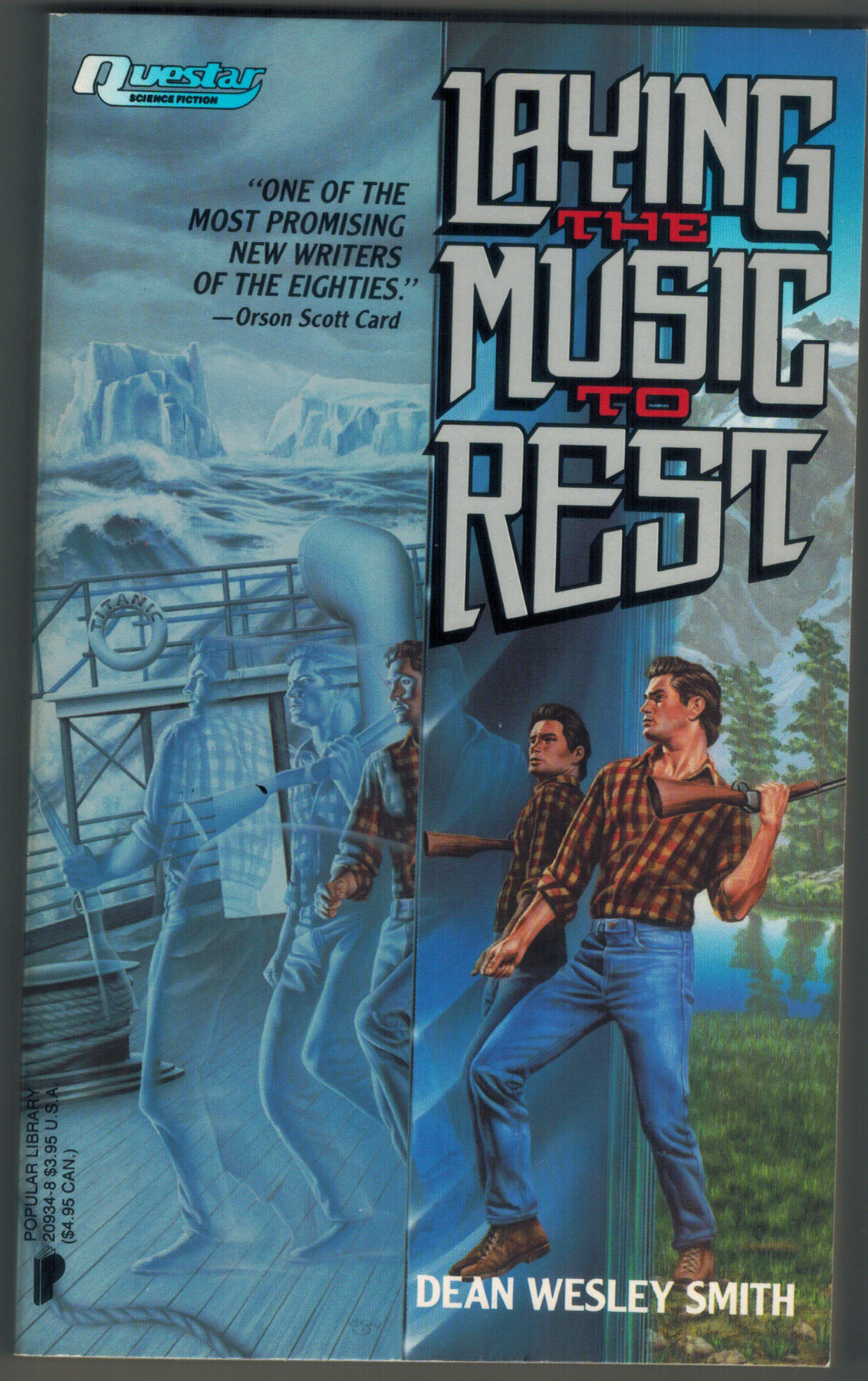 So if you want to read my first published novel, grab a copy of #36 Smith's Monthly when it comes out. Or support this blog through Patreon because all supporters will get the issue when it comes out later this month.
The book will come out stand-alone in electronic and paper in January or so.
One more fun point. My missing friend, Bill Trojan, bought me the original oil painting that is the art of the original novel and that original Barkley Shaw oil painting is framed and hanging in my office. And it has been now for twenty-five years. How nifty is that?
The Day
Worked on workshops again all day. Worked on the coming Master Class here at the coast, then on the last week of the September workshops and the first week of the October workshops.
Also again watched the Voice tonight. Wow, is it good this year. Brutal competition.
Also did not get time to send out the Smith's Monthly to Patreon supporters today. Will try to do so tomorrow. I got the files, just not the time. (grin)
———————
November Online Workshops

Click the workshop tab above for description and sign-up or go to www.wmgpublishingworkshops.com.
Questions about any of the workshops, feel free to write me. Almost no one is signed up yet. I will be writing all the Kickstarter people who got the workshops that way later this week. At that point, some of these might fill up.
Class #41… Nov 1st … Author Voice
Class #42… Nov 1st … Point of View
Class #43… Nov 1st … Adding Suspense to Your Writing
Class #44… Nov 1st … Ideas
Class #45… Nov 1st … Character Development
Class #46… Nov 2nd … Depth in Writing
Class #47… Nov 2nd … Advanced Character and Dialog
Class #48… Nov 2nd … Cliffhangers
Class #49… Nov 2nd … Pacing Your Novel
Class #50… Nov 2nd …Expectations (Writing on the Rails)
Classic Workshops and Lectures are also available at any time.
If you are wondering what order would be best to take some of these workshops, we have done a curriculum for the workshops. You can see that at https://deanwesleysmith.com/workshop-curriculum/
————————————
Totals For Year 4, Month 3, Day 11
Writing in Public blog streak… Day 1,118
Total Miles This Month… 56 miles
— Daily Fiction: 00 original words. Fiction month-to-date: 00 words
— Nonfiction: 00 new words. Nonfiction month-to-date total: 00 words
— Blog Posts: 600 new words. Blog month-to-date word count: 3,700 words
— E-mail: 34 e-mails. Approx. 3,100 original words. E-mails month-to date: 208 e-mails. Approx. 13,300 words
— Covers Designed and Finished: 1. Covers finished month-to-date: 1 Covers
———-
— Year of Short Fiction Goal: 120 stories (July 1st to June 30th). Stories finished to date: 8 stories.
— Yearly Novel Goal: 12 Novels. Novels finished to date: 2 novels.
——–
You can support this ongoing blog at Patreon on a monthly basis. Not per post. Just click on the Patreon image. Thanks for your support.