I Got To Watch a Magic Bakery In Action…
On the 4th, Kris and I had lunch downtown and stopped by PinkBox Doughnuts to get her a snack. (I am losing weight, so no snack for me at this point.)
We were standing in line (never seen the place without a line) and I was staring at the amazing thirty-foot long display counter of four shelves high of a variety of doughnuts of all colors and shapes. Plus at least thirty-foot long glass cabinets full of shelves and trays of doughnuts behind the counter.
And besides all the doughnuts, everywhere you looked there was a ton of licensed products, from hats to t-shirts and sweat-shirts to mugs and a bunch of other stuff.  The products filled every corner. And people were buying it all as fast as the three employees could sell stuff.
(There catch phrase is… "So good, you'll lick the box."…Yes, that is on t-shirts.)
Here is a picture of an older and different Pinkbox with no where near the number of selections the new one has that we were in and without the glass cases in the back and all the products. But you get the idea.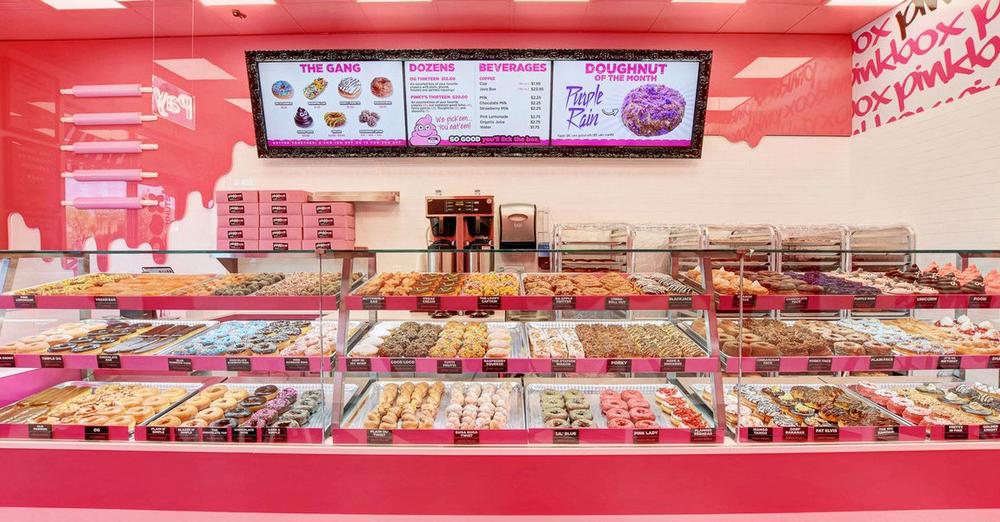 Why did I say it was magic? Because someone would point to something in the glass case up front and magically those doughnuts would appear in a bright pink box by the cash register, but the doughnuts in the case never moved.
Not quite the same as when we writers license a book to a bookstore, a reader licenses that book from the bookstore, and yet that book stays in the store. But pretty close.
I turned to Kris and I said, "Imagine if there was only one doughnut in this place (instead of a variety of over a hundred) and no products and everything else was empty."
She laughed and said that the place would be empty of customers and we wouldn't be there either.
So when a young writer complains to me that they are not selling after writing three or four or even ten books, I just shake my head. No reason for a customer to go into their store. The shelves are empty.
Kris and I started the Indie Writers Products class to help indie writers fill out their magic bakeries while they write more. And even with the half-off sale, very few have signed up for the class, which surprises me to be honest. (Sale details last post.)
Let me explain why this surprises me.
Say you have your five-book series. Let's call it "Cake Doughnuts with Sprinkles" Series.
You also have a few doughnut hole short stories off to one side and an older series called "Butter Cream Frosting." Not enough to fill a store and make it look good to a visiting customer.
But you only have so much time to write, so how can you increase income, increase products in your store, without spending any money or taking any real time away from the writing? Products, of course.
Just using the standard products, you could add in mugs (if you have the right license on the art and the fonts), t-shirts, pillows. Man, with the cool art you have on "Cake Doughnuts with Sprinkles," that would make some really cool pillows.
And don't forget about adding products to your "Butter Cream Frosting" series. Mugs to go along with the other ones, maybe a puzzle or two, and things like that.
— What is the cost to have these products on your Shopify store?  Nothing but a tiny bit of time.
— Do you have to ship any of those products or touch them? Of course not. Just as with the books, they are print on demand and ship directly to the customer through links on your store. You just get the profit.
And I have heard of two writers who have a product that is outselling their books.
So instead of having eight books (products) to hit that discoverability level, you could have eight books, more being written, be doing Kickstarters with fun stuff for the new books, and selling products that are fun and great promotion for your books and future books. Your store would look full, customers wouldn't turn away laughing because there is nothing in your store for them to buy.
Products are not your books, I get that, but they are great small cash streams and great filler.
All this is a natural for fiction writers and indie publishers. Just because the traditional publishers never did it, doesn't mean that you can't.
And what is even more important, you should learn how to do this when you don't have a ton of books and series.
Yes, I know, things are changing. So much of the advantages of a Shopify store are new to us, and so much of the print-on-demand of products is now possible where a few short years ago it was not. So this is now a coming wave for all of us.
Fill your magic bakery, and when someone buys that mug or t-shirt from your store, the product will still be for sale in your store. You have spent no money and only made money. And you can sell more.
Yes, it really is magic.