Kris and Her Awards
Over the years, Kris has won many, many awards and been nominated so many times, I doubt she knows how many. She is the only person ever to win a Hugo Award for both her fiction and her editing work. And one night at the Edgar Award ceremony for mystery, she was nominated for best novel under one name and for best short story under another.
But this month Kris won two major awards. That's right, two!
I think that is amazingly cool.
To me, an award voted on by readers only, without politics, is the best reward there is. Period.
The Anlab Award for Analog SF Magazine and the Reader's Choice Award for Asimov's Magazine are very special awards, voted on by the readers of the magazines. She won them both in the same year.
And I know Kris really, really appreciates the readers liking her work.
Congratulations, Kris! Fantastic job! I can't begin to express how proud I am of you.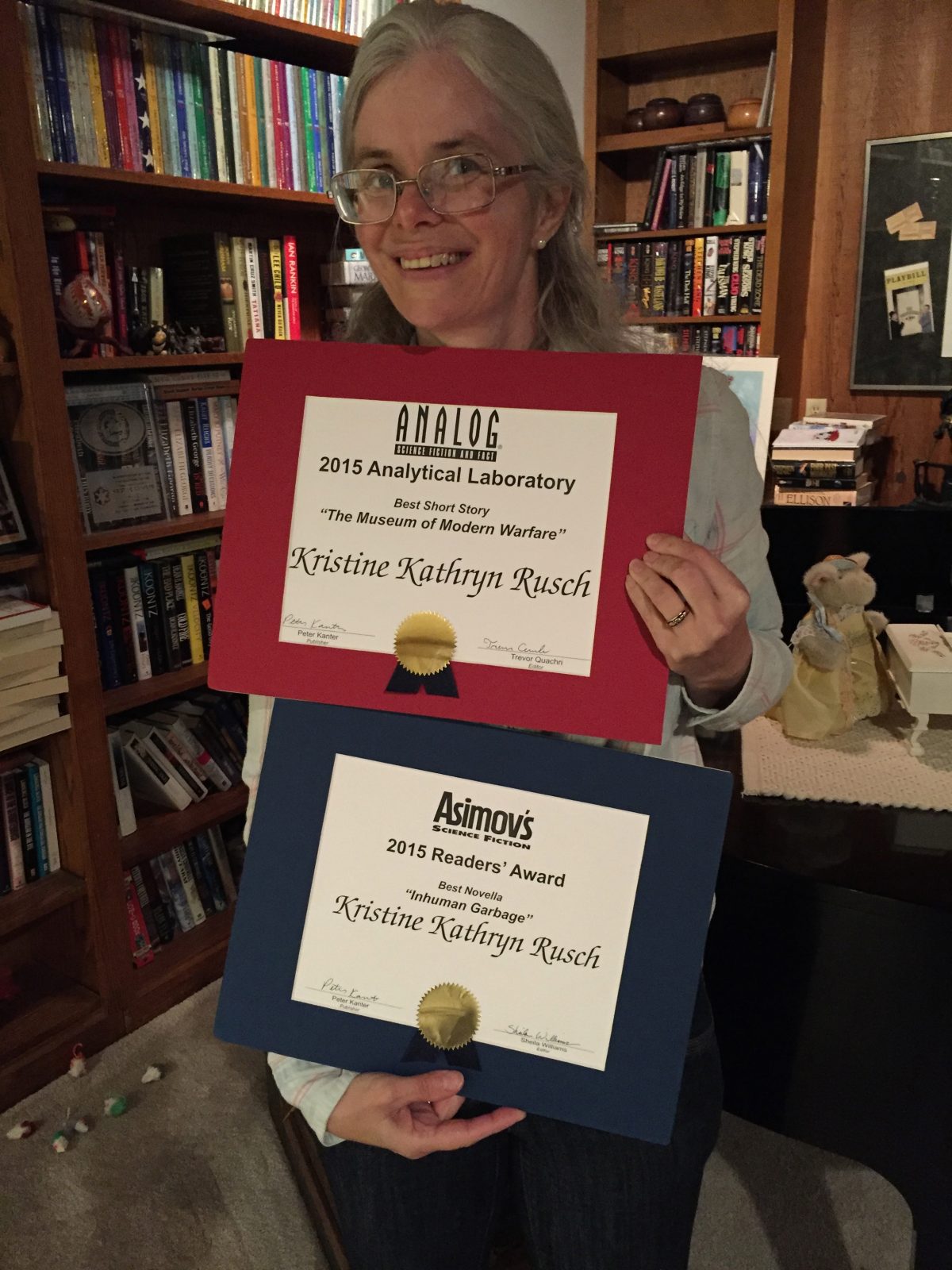 ————-
The Day
I managed to get a lot of things priced at the new store, run a few thousand errands, and bought a new display case.
But I didn't get to the writing. Just felt too tired. Guess I should have let myself rest a few more days before starting back up. Ahh, well, back at it tomorrow.
—————
Online Workshops
I think this June list of workshops might be the strongest list of online workshops we have ever done. Since it is the time of great forgetting, not many people signed up yet, so most of these workshops will allow me to give pretty good attention to anyone taking them.
And remember, except for the new workshop, Teams, the workshops are only limited to five writers. Even with that limitation, none are close to filling. Teams is limited to twelve writers. Still lots of room in that as well.
Class #51… June 6th … The Business of Writing
Class #52… June 6th … Character Voice/Setting
Class #53… June 6th … Author Voice
Class #54… June 6th … Ideas into Stories
Class #55… June 7th … Teams in Fiction
Class #56… June 7th … Depth in Writing
Class #57… June 7th … Plotting With Depth
Class #58… June 8th … Writing Fiction Sales Copy
Class #59… June 8th … Writing and Selling Short Stories
Class #60… June 8th … Advanced Depth
Classic Workshops and Lectures are also available at any time.
——–
The Writing of Death Takes a Partner: A Mary Jo Assassin Novel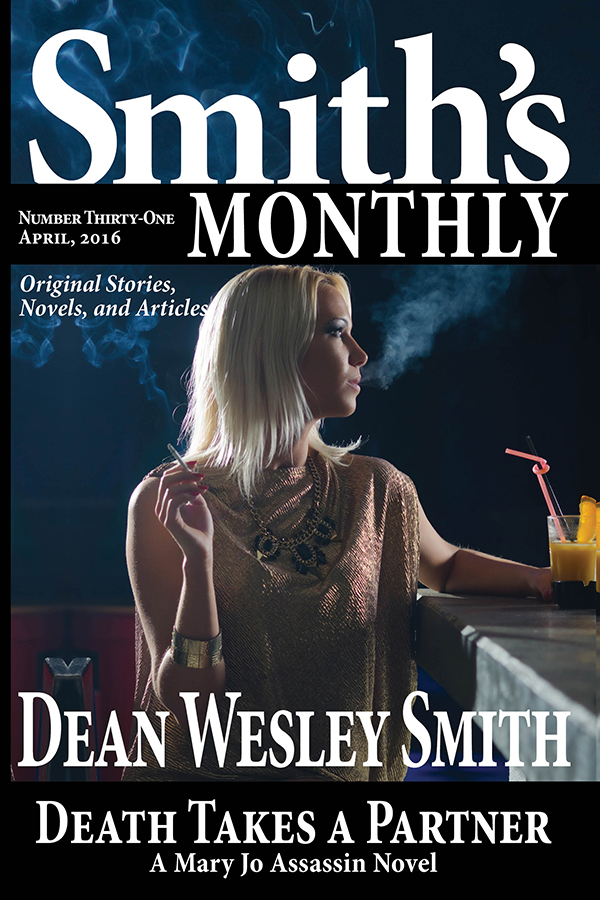 Day 1.. 2,100 words.   Total words so far… 2,100 words.
Day 2.. 4,400 words.  Total words so far… 6,500 words.
Day 3.. 4,200 words.  Total words so far… 10,700 words.
Day 4.. 2,150 words.  Total words so far… 12,850 words.
Day 5.. 2,200 words.  Total words so far… 15,500 words.
Day 6.. 2,050 words.  Total words so far… 17,550 words.
Day 7.. 3,200 words.  Total words so far… 20,750 words.
(Thirty days off between day six and day seven.)
——————
Totals For Year 3, Month 10, Day 27
Writing in Public blog streak… Day 982
— Daily Fiction: 00 original words. Fiction month-to-date: 3,200 words  
— Nonfiction: 00 new words. Nonfiction month-to-date total: 00 words 
— Blog Posts: 300 new words. Blog month-to-date word count: 13,500 words
— E-mail: 6 e-mails. Approx. 200 original words.  E-mails month-to date: 537 e-mails. Approx. 34,800 words
— Covers Designed and Finished: 0. Covers finished month-to-date: 2 Covers
——–
You can support this ongoing blog at Patreon on a monthly basis. Not per post. Just click on the Patreon image. Extra stuff for different levels of support and I will be adding in more as time goes on. Thanks for your support.
Or you can just toss a tip into the tip jar with a single donation at PayPal. Either way, your support keeps me going at these crazy posts.
And thanks.


If you would like to leave a tip just hit Paypal.me/deanwesleysmith (Goes to WMG Publishing account, but I'll get it just fine.)