Killing the Sacred Cows of Publishing: Writing Fast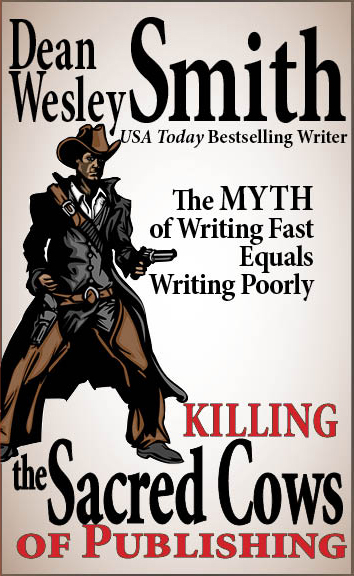 Years ago I did this series called Killing the Sacred Cows of Publishing. I stopped doing this because I hoped for a time that indie publishing would murder a few of the myths on its own, but sadly, it hasn't. In fact, indie publishing created some new ones to go along with the old ones.
Since I am going to blog about a ghost novel I'm writing here, I figured why not bring this forward to make sure everyone is on the same page as I go into this writing week. And maybe after I get the book done I'll start back updating and bringing forward all these and get them into a book.
But for now, how am I going to write this ghost novel in seven to ten days? Spend more time in the chair.
If you don't understand that, read this article.
—-
Speed of writing…
Or said in myth fashion: WRITING SLOW EQUALS WRITING WELL.
Or the flip side: WRITING FAST EQUALS WRITING POORLY.
This comes out of everyone's mouth at one point or another in a form of apology for our work. "Oh, I just cranked that off."
Or the flip side… "This is some of my best work. I've been writing it for over a year."
Now this silly idea that the writing process has anything at all to do with quality of the work has been around in publishing for just over 100 years now, pushed mostly by the literature side and the college professors.
It has no basis in any real fact when it comes to writers. None. If you don't believe me, start researching how fast some of the classics of literature were written.
But don't ask major professional writers out in public. Remember we know this myth and lie about how really hard we do work. (Yup, that's right, someone who makes stuff up for a living will lie to you. Go figure.) So you have to get a long-term professional writer in a private setting. Then maybe with a few drinks under his belt the pro will tell you the truth about any project.
My position:
NO WRITER IS THE SAME. NO PROJECT IS THE SAME.
And put simply:
THE QUALITY OF THE FINAL PRODUCT HAS NO RELATIONSHIP TO THE SPEED, METHOD, OR FEELING OF THE WRITER WHILE WRITING.
That's right, one day I could write some pages feeling sick, almost too tired to care, where every word is a pain, and the next day I write a few more pages feeling good and the words flowing freely and a week later I won't be able to tell which day was which from the writing.
How I feel when I write makes no difference to the quality of what I produce. None. Damn it, it should, but it just doesn't.
And I just laugh when a myth like this one attempts to lump all writers into the same boat and make us all write exactly the same way book after book after book.
No writer works the same, even from book to book or short story to short story.
Talk to any writer, and I mean privately, getting them to tell you the truth, not the public line, and you will discover that one of the writer's books was written quickly, maybe even in a few weeks, while another book took the writer a half year to finish and he was deathly ill during half the writing time. And you, as a reader, reading the two books, would never be able to tell the difference.
But yet, traditional publishing, college professors, and just about anyone who even thinks about the writer behind the words has a belief system that words must be struggled over to be good.
Well, yes, sometimes.
And sometimes not.
Sometimes a writer gets into a white-hot heat and a book flows faster than the writer can type, getting done in just a number of days or weeks. And sometimes it just doesn't work that way.
Sometimes a writer has a deadline to hit and pushes to hit it, spending more hours in the chair, thus calling it writing fast. Some writers think and research a book for a few months, then write it in a few weeks. Some writers spend a month or two on a detailed outline, then take a month to actually write the book. Some writers start with a title, some write chapters out of order and then put it all together like a puzzle.
And on and on and on.
Every writer is different. Every writer's method is different
There is no correct, mandated way to write a book. Juts your way.
The myth of writing slow to write better actually hurts writers.
There are two sides of our brains. The creative side and the critical side.
The creative side has been taking in stories since the writer started reading, knowing how to put words together at a deep level. The critical side lags far, far behind the creative side, learning rules that some English teacher or parent forced into the critical mind.
The creative side is always a much better writer than the critical side. Always. It never switches, no matter how long you write.
Long term (20 years and up) professional writers have learned to trust that creative side and we tend to not mess much with what it creates for us. Of course, this lesson for most of us was learned the hard way, but that's another long chapter for another book.
A new writer who believes the myth that all good fiction must be written slowly and labor-intensive (called work) suddenly one day finds that they have written a thousand words in 35 minutes. The new writer automatically thinks, "Oh, my, that has to be crap. I had better rewrite it."
What has just happened is that the top writing the creative side of the mind has just produced is then killed by the critical side, dumbed down, voice taken out, anything good and interesting removed.
All caused by this myth.
And professional editors in New York are no better, sadly. I once got a rewrite request on a major book from my editor. I agreed with about 9/10?s of the suggestions, so I spent the next day rewriting the book, fixing the problems, and was about to send the manuscript back when Kris stopped me.
The conversation went something like this:
"Don't send it, sit on it a few weeks," Kris said, looking firm and intense, as only Kris can look.
"Why not?" I asked, not remembering at that moment that the myth was a major part of traditional publishing.
"The editor will think you didn't work on it and that it is crap," Kris said.
"But I agreed and fixed everything," I said, starting to catch a clue, but not yet willing to admit defeat.
Kris just gave me that "stare" and I wilted, knowing she was completely correct.
I held the rewrite for three weeks, sent it back with a letter praising the rewrite comments and a slight side comment about how hard I had worked on them, even though I wrote most of another book in the period of time I was holding the rewrite. Story ended happily, editor was happy and commented on how fast I managed to get the rewrites done, all because Kris remembered the myth and how it functions.
Now, let me do something that just annoys people, especially in the master classes we teach. I'm going to do the math. (Stop laughing, former students.)
The Math of Writing Fast
This chapter when finished is going to be around 2,000 words. That is about 8 manuscript pages with each page averaging 250 words per page.
So say I wrote only 250 words, one manuscript page per day on a new novel.
It takes me about 15 minutes, give-or-take (depending on the book and the day and how I'm feeling) to write 250 words of fiction. (Each writer is different. Time yourself.)
So if I spent that 15 minutes per day writing on a novel, every day for one year, I would finish a 90,000 word plus novel, about a normal paperback book, in 365 days.
I would be a one-book-per-year writer, pretty standard in science fiction and a few other genres.
15 minutes per day equals one novel per year.
Oh, my, if I worked really, really hard and managed to get 30 minutes of writing in per day, I could finish two novels in a year.
And at that speed I would be considered fast. Not that I typed or wrote fast, just that I spent more time writing.
God forbid I actually write four pages a day, spend an entire hour per day sitting in a chair!!!! I would finish four novels a year. At that point I would be praised in the romance genre and called a hack in other genres.
See why I laugh to myself when some writer tells me they have been working really, really hard on a book and it took them a year to write? What did they do for 23 hours and 45 minutes every day????
The problem is they are lost in the myth. Deep into the myth that writing must be work, that it must be hard, that you must "suffer for your art" and write slowly.
Bull-puckey. Writing is fun, easy, and enjoyable. If you want hard work, go dig a ditch for a water pipe on a golf course in a steady rain on a cold day. That's work. Sitting at a computer and making stuff up just isn't work. It's a dream job.
Spend More Time in the Chair
Oh, oh, I just gave you the secret to being a "fast" writer or a "prolific" writer. Just spend more time writing.
I am the world's worst typist. I use four fingers, up from two, and if I can manage 250 words in fifteen minutes I'm pretty happy. I tend to average around 750-1,000 words per hour of work. Then I take a break. I am not a "fast" typist, but I am considered a "fast" writer because I spend more time writing than the myth allows.
That's the second thing that makes this myth so damaging to writers. It doesn't allow writers to just spend more time practicing their art. In fact, the myth tells writers that if they do spend more time working to get better, they are worse because they produce more fiction.
Writing is the only art where spending less time practicing is considered a good thing.
In music we admire musicians who practice ten or more hours a day. Painters and other forms of art are the same. Only in writing does the myth of not practicing to get better come roaring in. We teach new writers to slow down, to not work to get better, to spend fewer and fewer hours at writing, to not practice, and then wonder why so many writers don't make it to a professional level.
We No Longer Have to Wait for Traditional Publishers
For the last few decades, unless a writer wrote under many pen names, we were forced by the market to write fewer books per year. But now, with indie publishing, we can once again write as much as we want.
And we can write anything we want.
We can sell some books to traditional publishers, we can indie publish other books and stories.
The new world has lifted the market restrictions on speed of writing. Now those of us who actually want to sit and write for more than 15 minutes per day can publish what we write in one way or another.
And being fast, meaning spending more time writing, is a huge plus with indie publishing. We are in a new golden age of fiction, especially short fiction, and just as in the first golden age, writing fast (meaning spending more time at your art) will be a good thing also for your pocket book.
Writing Slow Equals Writing Better is a complete myth, a nasty sacred cow of publishing that hurts and stops writers who believe it.
— The truth is that no two writers work the same and no book is the same as the previous book or the next book.
— The truth is that writing fast is nothing more than spending more time every day writing.
— The truth is that there should be no rule about speed relating to quality.
— The truth is there should be no rule that lumps all writers into one big class. There should only be your way of writing.
Be Careful!!
Sadly, this myth is firm in the business, so writers who spend more time in the chair and who write more hours have to learn to work around the myth. We must learn to play the game that teachers, editors, book reviewers, and fans want us to play.
And if you decide you can spend more hours every day writing and working on your art, be prepared to face those who want you to write the way they do. Be prepared to face those who want to control your work. Be prepared to face criticism from failed writers (reviewers) who can't even manage a page a day, let alone more.
This speed myth is the worst myth of an entire book full of myths. Caution.
The best thing you can do is just keep your speed and your writing methods to yourself. You're an artist. Respect your way of doing things and just don't mention them to anyone.
So please don't do the math about my age. I sold my first novel when I was 38 and have published over 100 novels. At one book per year, I must be at least 138 years old.
After my hard, single-page-of-writing every day, I sometimes feel that way.
Yeah, right.
But I stand by that story.
————————————————
Copyright © 2013 Dean Wesley Smith
————————————————–
Because of the new world and technology, my magic bakery got a lot more valuable lately. This is now part of my inventory in my bakery. I'm giving you this small slice as a sample. I'm giving you a taste, but not selling any of the pie.
If you feel this helped you in any way, toss a tip into the tip jar on the way out of the Magic Bakery.
And I would like to thank all the fine folks who have donated. Once this book is done, I will send you a copy. The donations and the comments both after the posts and privately really kept me going on this. Thanks!
If you can't afford to donate, please feel free to pass this chapter along to others who might get some help from it.
Thanks, Dean