Had Fun Working in Our New Bookstore
Fun Working in Our New Bookstore
Yeah, that's right, WMG Publishing will, in short order, be the owner of a brick and mortar bookstore. It's a large area inside of the new Pop Culture Collectables store. Actually one third of the entire store is paperbacks, hardbacks, sf and mystery digests, and magazines.
Another third of the store is a comic book store. Wait until you see the wall of comics. I'll do pictures.
And in the comic book room will be die cast cars as well. And larger cars.
And the main room is toys, non-sports cards, cookie jars, sports collectables, jewelry, and collectable boxes and clocks. We also have in the bookstore area a wall of dvd films and old serials and you name it.
Billy used to manage a bookstore before he took over the first Pop Culture store for WMG, so he is pricing book regularly when he can get away from the other store. Josh, the new store manager, is working on getting thousands of comics in order and priced, as well as making sure all the cases and fixtures and everything else is in place. I'm helping with toys, cars, and other misc things. And we have others coming in to help as we get close to the first day of opening.
But tonight for hours I worked in the bookstore, clearing spaces, going through some boxes of X-Files stuff left from a collection we bought, and just having a blast.
I had to run up and down the stairs at times to continue loading in workshop videos, but good exercise.
This will be the second bookstore I have owned and the third comic book store, since the original Pop Culture Collectables is about a third comics as well, but no books out there. I opened my first bookstore in 1977 and my first comic store in 1979.
I had forgotten how much fun it is to just go play in books.
And yes, it will have a large area for WMG books. Including Fiction Rivers.
And later on this summer or early fall, once things settle down, we will have a Lionel Train running through the walls and around in all three major rooms of the store above the customer's heads. Now that will be cool.
ATTENTION!
Anyone who is signed for a May online workshop should have gotten a letter from me. If you did not, write me.
And there is still room in all the workshops. Remember they are limited to no more than five (except the two new ones), so these workshops now have become more focused on me trying to help each person.
Workshops start Monday, Tuesday, and Wednesday
———
Topic of the Night: Very Nice Comment
Earlier today I got a very nice letter from a writer who had happened to read my collection Stories from July. She liked the collection and the blogs with the stories, but she really loved one story called "To Remember a Single Minute."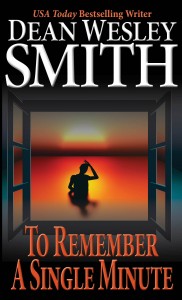 Now I remember when I wrote that story it sort of got to me as well. That happens at times. It's a sf story about a man losing his mind and he is allowed to remember vividly one minute of his life, but he has to pick which minute.
The writer who enjoyed the story said I should do some promotion on it, some discoverability. So that's what I am doing.
It just so happens all the stories in Stories from July are now out in stand-alone form in ebook. They will also be out in paper later on as well.
You can get the story at http://www.amazon.com/Remember-Single-Minute-Wesley-Smith-ebook/dp/B01DAZD9P4
Kind of fun having all 32 of the Stories from July out now stand-alone as well as in the big collection.
—————-
Totals For Year 3, Month 9, Day 30
Writing in Public blog streak… Day 955
— Daily Fiction: 00 original words. Fiction month-to-date: 24,100 words  
— Nonfiction: 00 new words. Nonfiction month-to-date total: 1,800 words 
— Blog Posts: 400 new words. Blog month-to-date word count: 18,500 words
— E-mail: 10 e-mails. Approx. 300 original words.  E-mails month-to date: 563 e-mails. Approx. 36,600 words
— Covers Designed and Finished: 0. Covers finished month-to-date: 1 Covers
——–
You can support this ongoing blog at Patreon on a monthly basis. Not per post. Just click on the Patreon image. Extra stuff for different levels of support and I will be adding in more as time goes on. Thanks for your support.
Or you can just toss a tip into the tip jar with a single donation at PayPal. Either way, your support keeps me going at these crazy posts.
And thanks.


If you would like to leave a tip just hit Paypal.me/deanwesleysmith (Goes to WMG Publishing account, but I'll get it just fine.)