Includes All Books, Merchandise, and Workshops!
Pulphouse Fiction Magazine has a brand new Shopify store, and to celebrate, we are having a Grand Opening Sale of everything in that store, in our large bookstore, and all WMG Workshops.
Go to www.pulphousemagazine.com and take a look. All the sale information is there at the top of the page. This new store is one of the many things we are excited about with Pulphouse. Fiction Magazine with our new monthly schedule.
And wow do we have some fun new writing classes we are launching into this sale so you can get them half price.
The code to get any class, workshop, subscription on WMG Teachable 50% off is:
GrandOpen
Just hit purchase on anything you want and on the next page put in the code and hit apply and you will have it for half price. Everything is available, including the Everything Subscription.
The brand new series is called DOWN IN THE DETAILS series and it has eight fantasy classes, eight mystery classes, and eight science fiction classes.
And the story assignments that go along with all 24 classes will be considered for inclusion in three really fun original anthology collections published by WMG Publishing Inc and edited by me. Here are the three covers for the anthologies.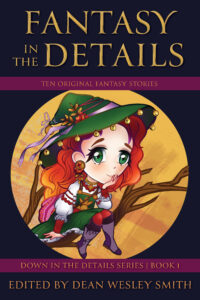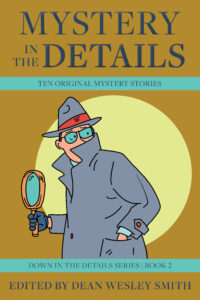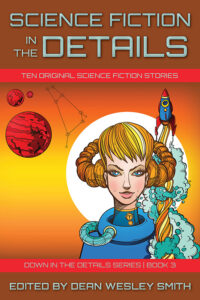 —
Fun anthologies and we pay 6 cents per word if I like your story and you want to be in the anthology (Don't send me the story if you don't want to be considered for these anthologies.)
Here are the list of classes. The first class in every series will be available on the 5th.  Then a new class will be available in all three series every week for the next seven weeks. We are pacing them along.
Fantasy
1… Writing Fantasy Magic Shop Stories
2… Writing Fantasy Portals Stories
3… Writing Fantasy Lost Civilization Stories
4… Writing Fantasy Castle Stories
5… Writing Fantasy Map Stories
6… Writing Fantasy Cave Stories
7… Writing Fantasy Shapeshifting Stories
8… Writing Fantasy Familiars Stories
Mystery
1… Writing Mystery Unsolved Crime Stories
2… Writing Mystery Locked Room Stories
3… Writing Mystery Court Stories
4… Writing Mystery Weapons Stories
5… Writing Mystery Victimless Crime Stories
6… Writing Mystery Mean Streets Stories
7… Writing Mystery Puzzle Stories
8… Writing Mystery Crime Spree Stories
Science Fiction
1… Writing Science Fiction Invasion Stories
2… Writing Science Fiction Exploration Stories
3… Writing Science Fiction Lost Civilization Stories
4… Writing Science Fiction First Contact Stories
5… Writing Science Fiction Colonization Stories
6… Writing Science Fiction Dying Planet Stories
7… Writing Science Fiction Battle Stories
8… Writing Science Fiction Generation Ship Stories
Each class is $150 and you can get all eight in a bundle for the price of six.  And save even more if you get all 24 at once. (And, of course, during the half price sale, everything is half off.)
YOU DO NOT HAVE TO TAKE THESE IN ANY ORDER! They all stand alone.
Note: The first five in the science fiction are stretch rewards in the Diving Kickstarter that we did last March and everyone who took that will get those five. (They had other names in the campaign.) When each one comes out it will be sent as an update to all backers in that campaign.
So this is the Grand Opening of the new Pulphouse Fiction Magazine Store.  We are doing a sale on all books, merchandise, and workshops. 30% on books, 10% plus free shipping on merchandise, and 50% on all classes and everything on WMG Teachable.
Check it out.  The store is very cool. The new home of the magazine and everything associated with it.
And this new series of DOWN IN THE DETAILS will be great fun. And making it into those books will be great fun as well, but the only way into them is take the class and then write me a story to the guidelines from each class that I want to buy and include.
Or challenge yourself to write 24 stories, one from each class, and make it into all three books.