Got Two New Workshops Live
Well, Not New… New Form…
On Teachable, you can find the two new webinar workshops. We moved over two from the Pop-Up workshops into the Insider's Guide structure. And the reason is that the four webinars for each would be fantastic discussions.
They are Insider's Guide to the Indie Game and The Insider's Guide to Fighting Fear in Your Writing.
Both are June workshops, starting June 3rd when the first week of videos will appear. Webinar for the Indie Game will be Sunday June 10th at 11 a.m. West Coast USA time. Webinar for the Fear workshop will be at 1 p.m. West Coast USA Time.
These are the exact same videos that were on the Pop-up Weekender workshops.
If you took one of the workshops as a weekender and want to repeat it with a webinar included, write me and I'll send you a code. Of course, you can still get into the one you took.
Lifetime Subscribers, they are already both in your subscription. All you have to do is show up. You don't have to tell me if you are going to take it.
Both of these are going to be stunning with the webinar discussion and question format. That's why we decided to move them over. I'm not sure which one I am looking forward to talking about the most. Both will be amazing.
Sign up at Teachable. Or if you have a credit, write me and I'll get you the code.
———
Fun Picture…
Kris was at the Global Licensing Expo in Las Vegas today. (I love this new indie world.)
Here is a great picture taken by Loren Coleman that made me laugh.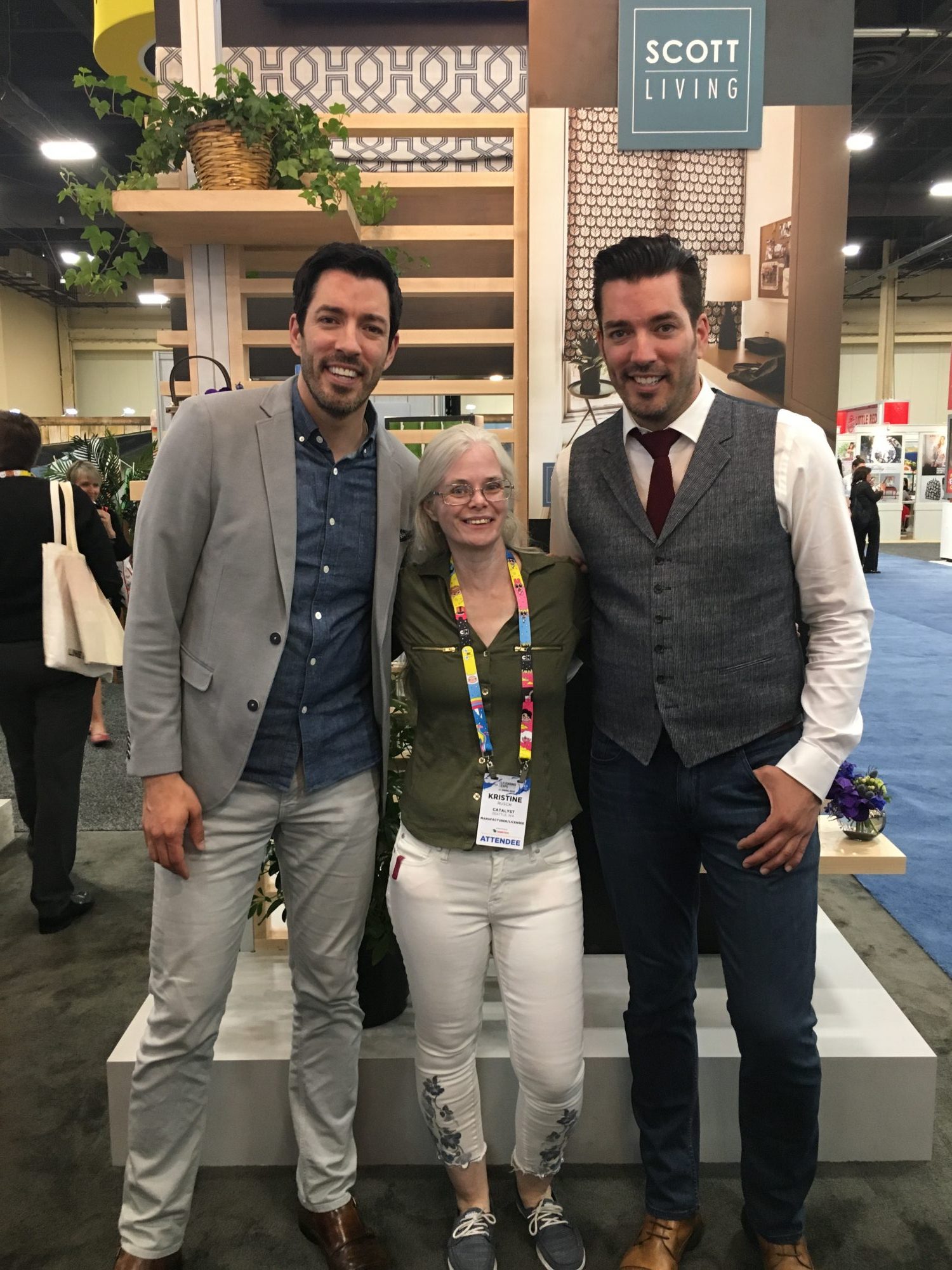 ———————-
Special Time of Great Forgetting Offer…
5 Days Left…
Two Regular Workshops and Two Classic Workshops for $500.00 total.
You can keep them as credits until you use them, be we hope you use a few of them in the next few months to fight back the Time of Great Forgetting. You will be happy you did when you hit August and September and are trying to restart.
So to be clear.
—Offer is for one week only.
— Two regular workshops and two classic workshops for $500. (The same amount we give in Kickstarters.)
— You can use them at your own pace.
— And you can buy more than one of these if you like. No limit.
Write me at dean.wmgworkshops.com for questions. Or just pay through Paypal normally and then let me know you have so I can mark down your credits.
July-October workshop lists will be posted in a day or so. Some great new workshops coming. And more webinar workshops as well coming in June. Going to be a fun summer around here for those who stay focused on the writing.
And yes, you can use them for the two new webinar workshops.
———————
Vegas Workshops
We have a nifty new web site for the Vegas workshops. WMGWorkshops.com. Pretty clear and simple address and a really nifty site that just launched describing the Vegas workshops.
We just ended the special deal we offered for coast workshops.
——————-
Lifetime Workshop Subscription
Lifetime Workshop subscribers can take any workshop they want at any time at their own pace. And turn in assignments when they want. The regular workshops on the lifetime panel are dated earlier, but they are identical to the current ones. If we change anything in a workshop, I will update that workshop on the lifetime subscription panel.
If you have taken less than five workshops, you can just buy it directly on Teachable for $3,000. (Right now about $11,000 in value of workshops.) If you have taken over five workshops, the cost is $2,500 through Paypal and you need to write me. If you have taken ten workshops, the price is $2,000 and you need to write me.
We have nine different new workshops scheduled coming up this year. Going to be great fun. And maybe two new webinar workshops in June.
Also, with new workshops, we will offer it a month ahead for only lifetime subscribers before opening it up. I'll talk more about this later, but the reason is that with the ten or so lifetime subscribers, I don't want to get swamped on any workshop with too many people taking it. So we will open any new workshop only to lifetime subscribers first.
——————-
June Regular Workshops
All twelve June Regular six-week workshops are now available on Teachable for sign-ups. The few of you who have signed up through me using credits will get a code shortly.
Class #61… June 5th … Think Like a Publisher
Class #62… June 5th … Endings
Class #63… June 5th … Point of View
Class #64… June 5th … Writing Mysteries
Class #65… June 5th … Speed
Class #66… June 5th … Teams in Fiction
Class #67… June 6th … Depth in Writing
Class #68… June 6th … How to Edit Your Own Work
Class #69… June 6th … Character Development
Class #70… June 6th … Writing Secondary Plot Lines
Class #71… June 6th … Advanced Depth
Class #72… June 6th … Novel Structure
July-October Schedule coming shortly. New June Webinars just announced.