Focus
It has been sort of a very strange period for me with my writing over the last few weeks or so. And I got a hunch this sort of things happens to everyone at times. Not the first for me, but one of the first times since I started this blog streak three plus years ago.
Let me see if I can describe this. It takes, at least for most of us, a level of focus at fiction writing. I am not talking about planning ahead or outlining or anything silly like that.
And I am not talking about all the problems that stop us from getting to the writing computer. At the moment I have none of those.
What I have is simply a lack of focus on fiction writing.
A better way of putting this is my short attention span is drawn away at the moment, so I just never seem to get to the writing. I want to, I like the book I am working on, no fears or anything like that.
Just too many other things at the moment that hold my attention.
There is nothing wrong with that in the slightest.
And I am certainly not beating myself up about not getting more words. I have total confidence that if I get to the writing, focus on it, it will happen just fine. And I also know that's going to happen fairly quickly.
How you tell you are in this sort of strange mind place is conflict. That's right, it feels like a conflict. Parts of your brain war for focus time.
Let me see if I can sort of explain that as well by example.
I am doing a ton of different things at the moment, some I have talked about such as the running, the bundles, the workshops (both here and online), the Kickstarter, and other things I haven't talked about, but will shortly for a few of them.
I am also headed to Utah in a week or so for a wonderful conference there I'll talk about later this week.
For example, I am losing weight, so a pretty large portion of my brain every day now is focused on what I can eat, how much, what I can cook, and so on. I am dropping about a pound every three days and need to stay on that pace until November and that is a focus.
At the same time I am ramping up the running, getting gear, reading all sorts of things about that, and spending the hours every day to get the milage needed. That is a huge focus.
And that's just two things out of many that are fighting in my mind with my desire to write fiction.
Think of your focus like a tank of water. You can only drain so much away every day before there is nothing left for the writing. And normally writing is one of my top two or three things every day I focus on.
So not getting to the writing feels like a small conflict going on. And a disappointment, because I really love just sitting and making up stories. But for the moment the focus tank is dry most days.
However, the way to get out of this sort of place is to bring up the importance of the writing in the chain of things. So once again I have set a deadline for the new novel. I need to have it done by the 15th of October.
Not a huge push for me because I understand where I am at with focus.
But the deadline will over the next few days bring the writing focus clawing its way back up through all the distractions.
In case you were wondering about all this, to have this sort of awareness of your own patterns and writing takes years and practice. But I do hope me running through this might have triggered a few things for some of you.
And stay tuned as you see the writing focus come back on track while I will still be doing the running and watching what I am eating. Each area will get some focus.
Or at least that's the plan. (grin)
—————–
Star Fall is Out in a Bundle
Repeating this again also since I really hope a bunch of you get this bundle to see what I produced in those ten days in August. Some of you might remember the book I wrote in ten days while aiming at seven days in late August. Star Fall: A Seeders Universe Novel. That book is now available as I promised it would be. The official publication date isn't until November, but at the moment it is available in a fantastic bundle called The Extreme Science Fiction Bundle. 
Also notice that in this bundle there is a fantastic Retrieval Artist novel called Extremes by Kris. It also has a great novel by Kevin J. Anderson, another by Mike Resnick, and another by M.L. Buchman. Plus two books by J. Daniel Sawyer.
And also an amazing volume of Fiction River: Risk Takers. I edited that and it is a fantastic example of a Fiction River volume.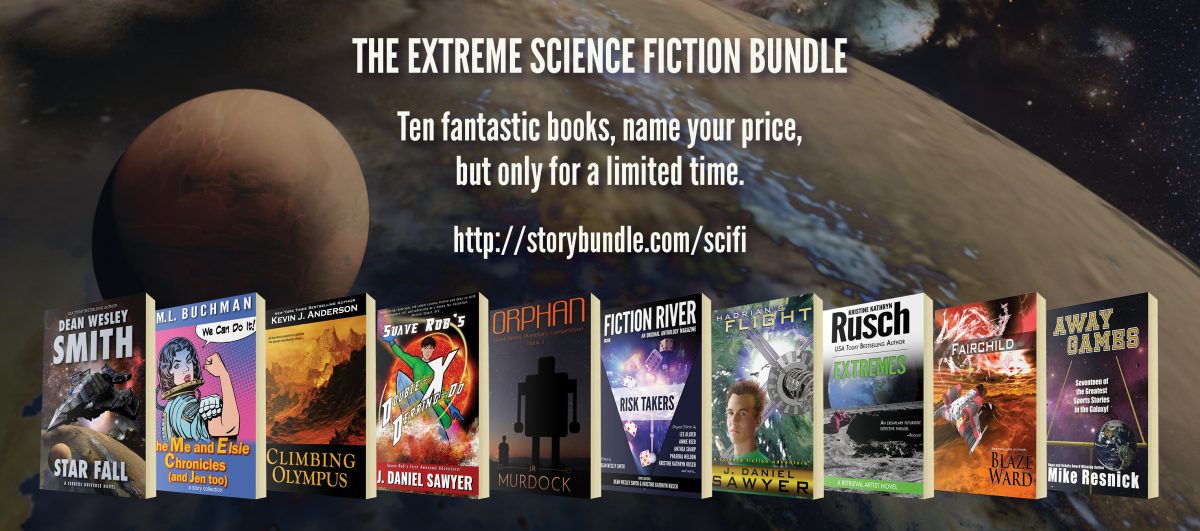 ——————–
Totals For Year 4, Month 2, Day 25
Writing in Public blog streak… Day 1,102
Total Miles This Month… 133 miles
— Daily Fiction: 00 original words. Fiction month-to-date: 4,700 words  
— Nonfiction: 00 new words. Nonfiction month-to-date total: 1,500 words 
— Blog Posts: 600 new words. Blog month-to-date word count: 8,200 words
— E-mail: 9 e-mails. Approx. 200 original words.  E-mails month-to date: 362 e-mails. Approx. 22,300 words
— Covers Designed and Finished: 0. Covers finished month-to-date: 0 Covers
———-
— Year of Short Fiction Goal: 120 stories (July 1st to June 30th). Stories finished to date: 8 stories.
— Yearly Novel Goal: 12 Novels. Novels finished to date: 2 novels.
——–
You can support this ongoing blog at Patreon on a monthly basis. Not per post. Just click on the Patreon image. Thanks for your support.