An Interview With Kevin J. Anderson
An Interview with Kevin J. Anderson
Joanna Penn, who is one of the nicest people I have met and one of the smarter people about publishing (and who happens to be here on the coast at the moment) did a wonderful interview with my friend, Kevin J. Anderson.
She gets Kevin talking about his writing, his thinking about the new world, and his process of how he writes. A great interview, as is normal with Joanna.
They also talk about the bundle I am in below. Joanna has a book in the bundle, as does Kevin. But mostly they talk about writing in general and the new world of publishing. Worth the listen, folks.
http://www.thecreativepenn.com/2016/10/17/23-million-books-kevin-j-anderson/
And even more fun, you can watch the two of them do the interview on a YouTube video.
https://www.youtube.com/watch?v=JRyCE6QATEQ
—
This is a bundle you don't want to miss. And in the process of reading all the wonderful novels in the bundle, I hope you enjoy both the wonderful stories in Fiction River: Pulse Pounders (which Kevin edited) and my very strange but fun golf thriller I wrote called An Easy Shot.
http://storybundle.com/thriller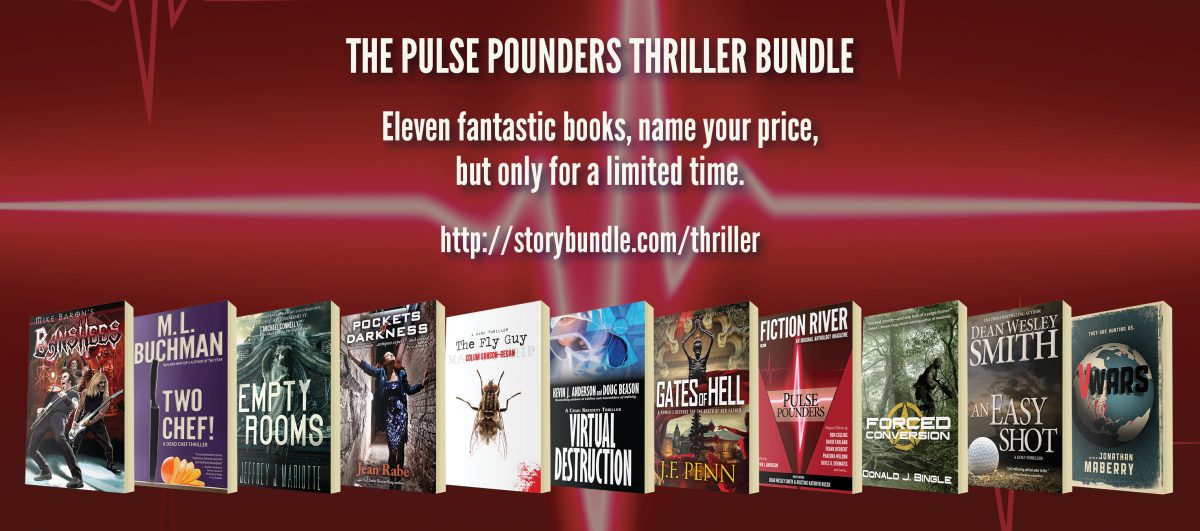 ———————
November Online Workshops

Click the workshop tab above for description and sign-up or go to www.wmgpublishingworkshops.com.
Questions about any of the workshops, feel free to write me. Almost no one is signed up yet. I will be writing all the Kickstarter people who got the workshops that way later this week. At that point, some of these might fill up.
Class #41… Nov 1st … Author Voice
Class #42… Nov 1st … Point of View
Class #43… Nov 1st … Adding Suspense to Your Writing
Class #44… Nov 1st … Ideas
Class #45… Nov 1st … Character Development
Class #46… Nov 2nd … Depth in Writing
Class #47… Nov 2nd … Advanced Character and Dialog
Class #48… Nov 2nd … Cliffhangers
Class #49… Nov 2nd … Pacing Your Novel
Class #50… Nov 2nd …Expectations (Writing on the Rails)
Classic Workshops and Lectures are also available at any time.
If you are wondering what order would be best to take some of these workshops, we have done a curriculum for the workshops. You can see that at https://deanwesleysmith.com/workshop-curriculum/
————————————
Totals For Year 4, Month 3, Day 17
Writing in Public blog streak… Day 1,124
— Daily Fiction: 00 original words. Fiction month-to-date: 00 words
— Nonfiction: 00 new words. Nonfiction month-to-date total: 00 words
— Blog Posts: 200 new words. Blog month-to-date word count: 4,700 words
— E-mail: 27 e-mails. Approx. 2,400 original words. E-mails month-to date: 286 e-mails. Approx. 18,500 words
— Covers Designed and Finished: 0. Covers finished month-to-date: 1 Covers
———-
— Year of Short Fiction Goal: 120 stories (July 1st to June 30th). Stories finished to date: 8 stories.
— Yearly Novel Goal: 12 Novels. Novels finished to date: 2 novels.
——–
You can support this ongoing blog at Patreon on a monthly basis. Not per post. Just click on the Patreon image. Thanks for your support.