Writing in Public Summary
Writing in Public: A Summary So Far
In the Life of a Professional Fiction Writer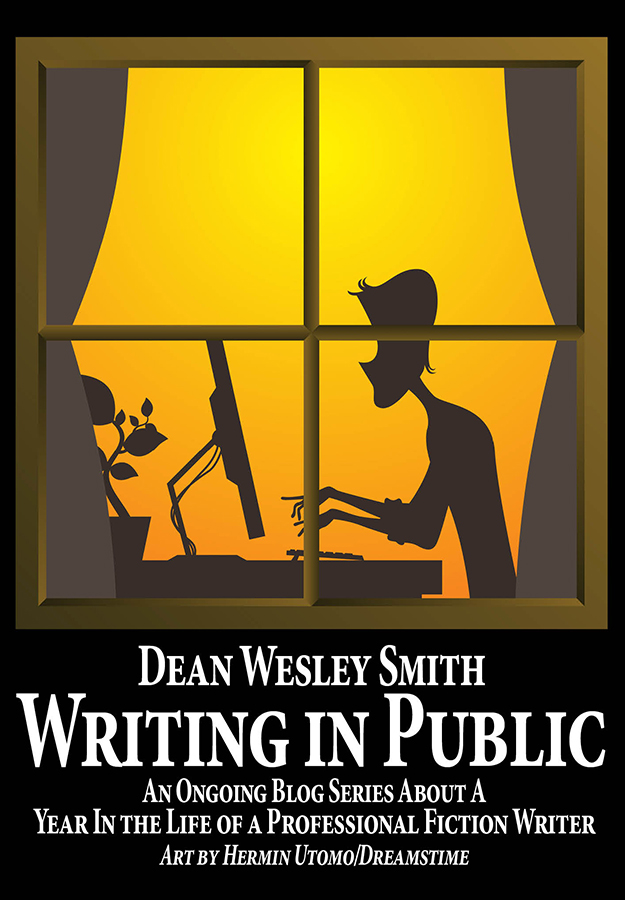 Here is a summary of this crazy project through 16 months. (Plan for December in the last day of November post below.)
I have just taken the major areas and put the totals.
November of this year I decided to finally stop talking about it and take my fiction writing up another level. So it was the best month so far and I have a hunch that given time, you will be able to look back clearly on where this decision was made.
The fun of tracking stuff like this. Also I have written 17 novels in sixteen months. And a bunch of short stories. And a bunch of nonfiction.
Remember, during this entire time I've been building a business, running online workshops, running coast workshops, and also we bought a retail store.
And I did from 7 to 10 covers per month as well.
In December, since so many people are afraid to commit to three hours a week of workshops due to holiday stuff, I'm going to detail out hours spent working at my day stuff and on holiday stuff just for fun. And the writing.
But basically, if you have been following me, you know I work a good 40 plus hours per week day job on top of this writing.
So here are the numbers. Some interesting things. I had six months over 120,00 words total out of the 16 months. I had five months under 100,000 words total in the 16 months. I had four months over 80,000 words of fiction as well.
But clearly in November I kicked it up a slight notch on the fiction since everything else was down or about the same from other months.
Onward and upward.
And one more note: The last day of November was Day 487. Now that's a streak.
Monthly Totals
Fiction:
August: 78,900 words
September: 81,200 words
October: 86,200 words
November: 56,800 words
December: 52,000 words
January: 34,150 words
February: 35,450 words
March: 70,250 words
April: 56,025 words
May: 80,650 words
June: 52,800 words
July: 60,750 words
August: 60,450 words
September: 44,000 words
October: 64,300 words
November: 107,400 words
Nonfiction: 
August: 1,000 words
September: 2,900 words
October: 2,000 words
November: 1,950 words
December: 1,700 words
January: 1,400 words
February: 6,550 words
March: 7,800 words
April: 2,500 words
May: 7,100 words
June: 14,700 words
July: 2,100 words
August: 2,300 words
September: 4,600 words
October: 00 words
November: 1,700 words
Blog Posts: 
August: 21,300 words
September: 16,600 words
October: 15,150 words
November: 12,550 words
December: 17,300 words
January: 11,450 words
February: 10,000 words
March: 14,800 words
April: 15,300 words
May: 19,600 words
June: 14,800 words
July: 16,350 words
August: 18,600 words
September: 23,550 words
October: 23,200 words
November: 23,200 words
E-mail:
August: 809 e-mails. Approx. 23,050 words
September: 861 e-mails. Approx. 24,600 words
October: 647 e-mails. Approx. 24,450 words
November: 622 e-mails. Approx. 24,250 words
December: 621 e-mails. Approx. 29,700 words
January: 802 e-mails. Approx. 19,200 words
February: 759 e-mails. Approx. 21,250 words
March: 980 e-mails. Approx. 33,200 words
April: 841 e-mails. Approx. 25,700 words
May: 921 e-mails. Approx. 24,800 words
June: 827 e-mails. Approx. 22,900 words
July: 823 e-mails. Approx. 26,450 words
August: 839 e-mails. Approx. 24,400 words
September: 856 e-mails. Approx. 26,150 words
October: 738 e-mails. Approx. 21,750 words
November: 744 e-mails. Approx. 19,850 words
TOTAL NEW WORDS
AUGUST  2013… 124,250 Words
SEPTEMBER… 125,300 Words
OCTOBER… 127,800 Words
NOVEMBER… 95,550 Words
DECEMBER… 100,700 Words
JANUARY  2014… 66,200 Words
FEBRUARY… 73,250 Words
MARCH… 126,050 Words
APRIL… 99,575 Words
MAY… 132,150 Words
JUNE… 105,200 Words
JULY… 105,650 Words
AUGUST… 105,700 Words
SEPTEMBER… 98,300 Words
OCTOBER… 109,000 Words
NOVEMBER… 152,150 Words
—–—