Writing in Public: Month One Summary: August, 2013
Month #1 Summary of this Writing in Public challenge.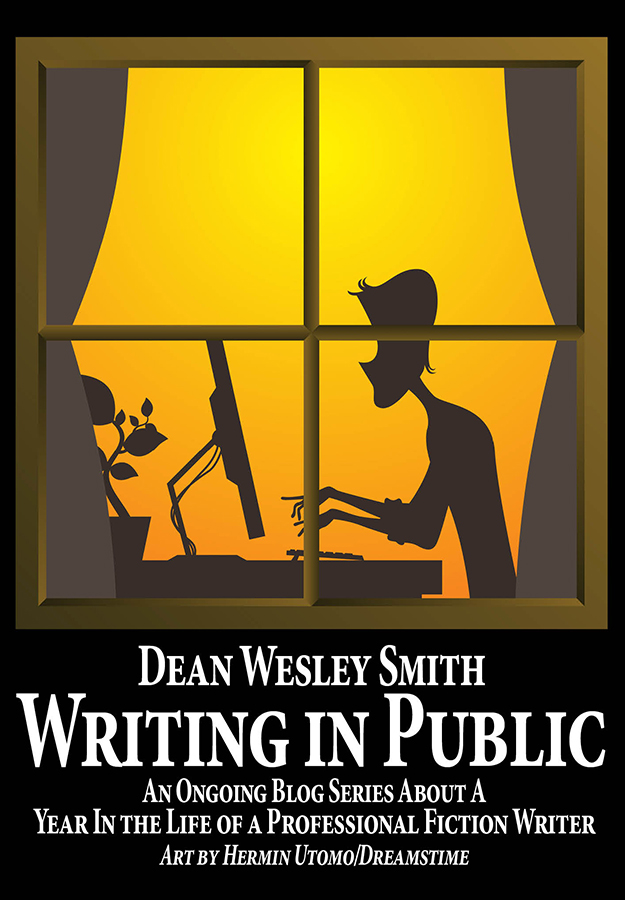 August, 2013
Well, that was interesting for me in more ways than one.
First, when I knew I was going to have to give a general summary of the day here, I was conscious of what I was doing most of the time. It didn't change my behavior in any real way, but I was aware of it more instead of just moving through the day.
I also became aware that the stuff I do outside of writing, from the publishing, to the workshops, to sitting in meetings, to working on collectables and other things, takes up about 50-60 hours per week on average. A little more right around the first of the month.
So in other words, I have a full time day job. Now granted, I love everything about my job and it mostly focuses around writing, but it isn't time writing new words. That amount sort of surprised me a little, to be honest.
It didn't surprise me that I worked steady seven days per week. I knew that because I love most everything I do and thus see no reason to take time away from what I love. Duh. This is just my life.
I also realized that I am slower than my average 1,000 words per hour on some projects and faster as I get into novels or toward the end of short stories. So guess the average still sort of works fine.
I only reported new words on everything. The amount of blog post words did not surprise me, but the amount of e-mail words did. I don't mind, just never had any reason to add them up before.
I also took a four day trip in August to Las Vegas which was fun.
I completed a bunch of projects, nine to be exact, including five new short stories. And I got forty-some thousand words on a new novel as well.
And I got the first issue (October) of Smith's Monthly filled with all new stuff and the cover designed and the layout worked out and that should be going to proofing in about a week. I'll report it on the daily updates. And the web site is coming along as is the subscription stuff. Almost ready. Another week or two at most.
New Month
For the new month, I'm going to start the counting over. And the project list of completed projects for the month over as well. Up under the Writing in Public tab at the top I will put the completed projects per month and links to the first and last posts of the month and to the summary posts, so anyone can go back and look.
If you have the time, the comments on a bunch of the posts have been great questions and worth the read. Thanks everyone, for the great comments and questions.
And each monthly summary post I'll update the full year's projects on that post as well.
Stay tuned. Here we go with month two. And yes, I am that crazy. (grin)
—
Totals For August, 2013
Fiction: 78,900 words
Nonfiction: 1,000 words
Blog Posts: 21,300 words
E-mail: 809 e-mails. Approx. 23,050 words
TOTAL WORDS FOR AUGUST… 124,250 Words
—–
Stories and Projects Finished August 2013
In order of production with the most recent at the top.
And Where and When You Will Be Able to Find Them
— Part 1-3 of The Adventures of Hawk. It will first appear in Smith's Monthly #1, October 2013. Eventually in later 2014 the first volume will appear in book form. (Approx. 4,100 words for first three chapters… about 1,000 were new)
— "The Big Tick in Time." It will first appear in Smith's Monthly #1, October 2013. Then as a stand-alone story in January, 2014. (Approx. 4,000 words)
— Dust and Kisses a futuristic romance novel (science fiction romance). It will first appear completely in Smith's Monthly #1, October 2013. Then as a stand-alone novel in January, 2014. (Approx. 57,000 words…about 5,000 of them were new this month.)
— "The Case of the Dog-Bit Arm" A Pilgrim Hugh Incident. It will first appear in Smith's Monthly #1, October 2013. Then as a stand-alone story in January, 2014. (Approx. 3,000 words)
— Nonfiction Golf Book… It will be serialized in Smith's Monthly starting with the first issue and then brought out as a short stand-alone humor book in the late Spring of 2014. (Approx. 20,000 words… About 4,000 of them were new.)
— Part 1-3 of The Life and Times of Buffalo Jimmy. It will first appear in Smith's Monthly #1, October 2013. Eventually in later 2014 the first volume will appear in book form. (Approx. 4,300 words for first three chapters… about half were new)
— "The Secrets of Yesterday" A Poker Boy story. It will first appear in Smith's Monthly #1, October 2013. Then as a stand-alone story in January, 2014. (Approx. 3,400 words)
— "The Road Back" A Doc Hill crime story. It will appear as a free promotion for the novel Dead Money on Kobo and also in Smith's Monthly #1, October 2013. Then as a stand-alone story in January, 2014. (Approx. 6,100 words)
— "Eyes on My Cards" A Doc Hill crime story. It will first appear in Fiction River Special Edition: Crime in February, 2014. (Approx. 3,900 words)