Writing in Public: Month 5 (and a little Year End) Summary
Month #5 Summary of this Writing in Public challenge.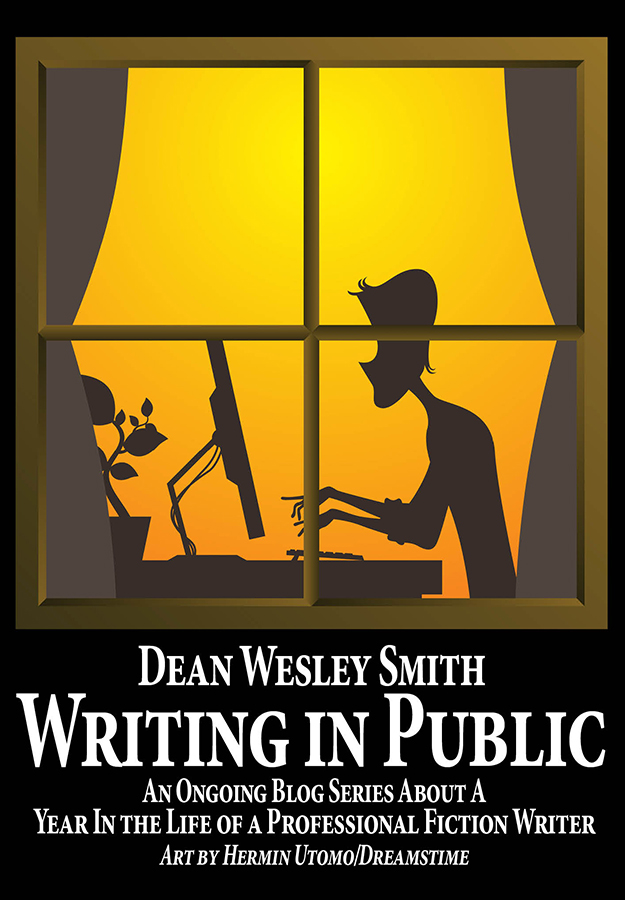 December, 2013
Made it through Month #5 and firing into Month #6 of this Writing in Public. And, as it happens, this month is the end of the year as well, so a little about that.
Of the five months of this challenge, December was the worst month in the fiction writing. I always slack off in November and December for some reason, but until I started this exact recording every day, I hadn't really realized how much.
Of course, I was doing so much other stuff, I just didn't push this month. This is the kind of writing month I have when I don't pay much attention, just as I didn't in November.
However, every year for me, January and February are good months. We'll see how the pattern from the past goes into this new world. (grin)
I have the monthly word counts below.
And as I have said every month, even though I knew I was going to give a general summary of the day here every day, it changed my behavior not at all. Not at all. For some reason I wish it did. I wish it drove me to the writing computer more often, but alas I just never think of it because of this daily update.
However, getting the words and the stories for Smith's Monthly every month has altered my focus. A LOT!! And that's going to drive me a lot over the next two months. I still have some reserves in stories and I am still a month ahead pretty much in content, so I have a little room. But I'd like to get even farther ahead, so I might have to try one of those ten day novels again at some point this spring like I did last spring. That should help. (grin)
And as with last month, I was very much aware that the stuff I do outside of writing, from the publishing, to the workshops, to sitting in meetings, to working on collectables and formatting Smith's Monthly and other things. All that takes up about 50-60 hours per week on average and December was no different. A little more right around the first of each month.
So in other words, as I said before, (and will say again right here…) I have a full time day job. Now granted, I love everything about my "day" job and it mostly focuses around writing, but it isn't time writing new words. That amount of time spent on the "day" job sort of surprised me a little, to be honest, even more this fifth month than it did the first four.
I only reported new words on everything. The amount of blog post words did not surprise me because I did more extra blog posts here at the end of the month. But the amount of e-mail words did surprise me again for this fifth month because my number of e-mails were about the same as before, but I wrote longer e-mails it seems in general. I don't mind at all, I just never had any reason to add them up before doing this. It is interesting.
A side point someone pointed out. My responses to questions on my blogs and to questions in the workshop web sites I don't count. I don't want to, actually. So those are just extra I do.
I completed I completed the novel Sector Justice, edited an issue of Fiction River, did an issue of Smith's Monthly, and got about 32,000 words on a new mystery novel, Kill Button.
I had a total new words written of 100,700 words, of which 52,000 words of that was new fiction. (See all the totals below.)
Look at the Full Year of 2013
Honestly, I have no idea what I did with writing before August 1st of 2013. I know I was doing the subscription of my short stories (and folks who subscribed to those short story books, the next to the last month (8 books) will be going out in January to you, finally, and the last bunch in early March. I haven't forgotten those at all. Just way late.)
I know I was working all year on the same "day job" stuff I have been doing the last five months. That hasn't changed. Teaching is about the same, and we started up the lecture series last spring. But all that remained about the same and kept me learning and enjoying working with writers.
And for the first five months of 2013, we were trying to build Ella Distribution. The change at Baker and Taylor and Ingrams allowing indie stores to order any indie author from a POD printer killed that business before it really got started. That was a test of time and energy for me. And I learned a ton about book distribution in this new world.
I wrote that novel in ten days that I ghosted (which started this entire thing) back in the spring sometime. (Too lazy to go back and look at my blogs for exact dates. (grin)) And I wrote a bunch of short stories and a bunch of articles on the New World of Publishing and other stuff. And I finally finished the book Killing the Top Ten Sacred Cows of Publishing, but won't do the introduction and turn it in until Friday.
Again, being forced to record everything I do has been good for me in knowing what I worked on.
Why can't I remember stuff from before? I know that seems odd to many of you. Honestly, I never kept track at any point in my career. My focus was always on the next story or the next novel. (Where have you guys heard that before?)
I couldn't care what I HAVE written, only what I am working on. So that focus meant I had no reason to keep track when something was finished except to get it out in the mail or to WMG. But now I do keep track for this daily update, which for me has been interesting learning what I do as well. (Kris says she reads it every day to see what I did the day before.)
And now doing Smith's Monthly has really got me motivated in a way similar to the old days of New York deadlines. I'm enjoying that a great deal, to be honest.
So do I have a goal for this coming year? I sort of had it on my bucket list to do a novel a month or more. Seems I might be on track for that if I keep going. With Smith's Monthly, that seems possible, since there is a novel in there every issue. (grin)
And when looking at the totals, I noticed I had over a half million words in these first five months. Over 350,000 of that was original fiction. A good first five months.
New Month
For January, just as I did with the five months before, I'm going to start the counting over. And the project list of completed projects for the month over as well. Up under the Writing in Public tab at the top I will put the completed projects per month and links to the first and last posts of the month and to this summary post, so anyone can go back and look.
If you have the time, the comments on a bunch of the posts have been great questions and worth the read. Thanks everyone, for the great comments and questions.
And each monthly summary post I'll update the full year's projects on that post as well.
Stay tuned. Here we go with month six. And a new year.
—
Monthly Totals
Fiction:
August: 78,900 words
September: 81,200 words
October: 86,200 words
November: 56,800 words
December: 52,000 words
Nonfiction:
August: 1,000 words
September: 2,900 words
October: 2,000 words
November: 1,950 words
December: 1,700 words
Blog Posts:
August: 21,300 words
September: 16,600 words
October: 15,150 words
November: 12,550 words
December: 17,300 words
E-mail:
August: 809 e-mails. Approx. 23,050 words
September: 861 e-mails. Approx. 24,600 words
October: 647 e-mails. Approx. 24,450 words
November: 622 e-mails. Approx. 24,250 words
December: 621 e-mails. Approx. 29,700 words
TOTAL NEW WORDS
AUGUST… 124,250 Words
SEPTEMBER… 125,300 Words
OCTOBER… 127,800 Words
NOVEMBER… 95,550 Words
DECEMBER… 100,700 Words
—–
Stories and Projects Finished This Month
In order of production with the most recent at the top.
And Where and When You Will Be Able to Find Them
—Turned in full manuscript for Smith's Monthly #4. It will appear in January 2014.
—Wrote my introduction to Smith's Monthly #4. It will appear in Smith's Monthly #4 published in January 2014.
— Turned in Fiction River: Universe Between. I was the editor and it will appear sometime in 2014.
— Novel titled Sector Justice. It will appear in Smith's Monthly #5 published in February 2014. And then in stand alone book form in April, 2014.