New Lectures and A Lecture Bundle
Not Kidding… Teachable Allows Me to Bundle Lectures and Workshops…
How much fun is that? A way to get discounts on the lectures at any point.
So over the last week I finally finished and got up the last two of the Advanced Business Lectures we announced and took some subscriptions for last summer.
Special Lecture Series is called…
ADVANCED BUSINESS FOR FICTION WRITERS
— 1…Corporations for Writers Lecture…$50.00
— 2…Taxes for Writers Lecture…$50.00
— 3…Movies and Television Negotiations for Writers Lecture…$50.00
— 4…Estates and Estate Planning for Writers Lecture…$50.00
— 5…Copyright for Writers Lecture…$50.00
— 6…IP Valuation Lecture…$50.00
All six are now available on Teachable.
These six are topics all writers need to really focus on at one point or another in their writing life. And last summer we offered six of them for $250.
I finally sent out codes to everyone who was signed up from last summer for the last one. If you were signed up and didn't get a code write me.
I tried a bundle with these and it worked really nifty. So now, with Teachable allowing bundles, I put all six of them together for $250 again. Just go to:
http://wmg-publishing-workshops-and-lectures.teachable.com/
And look for this cover.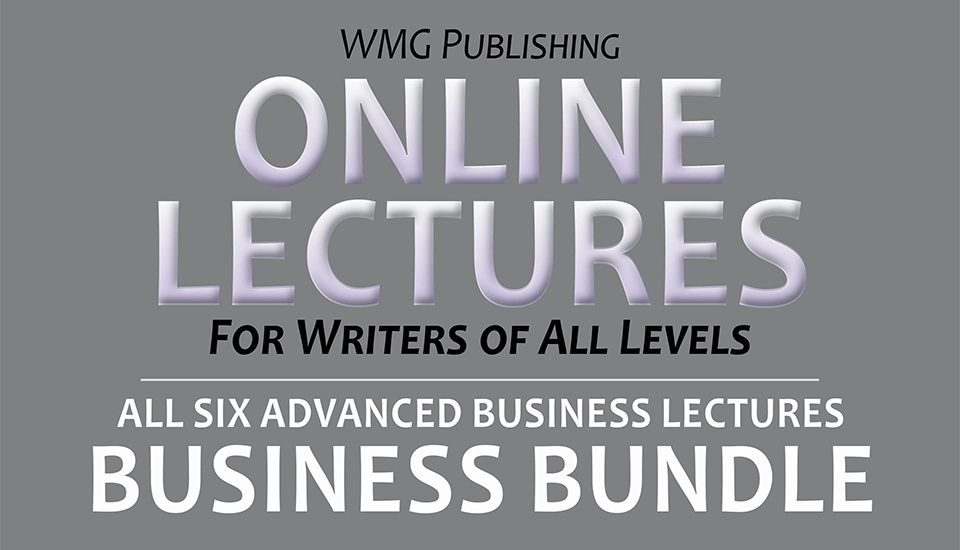 When you buy the bundle for $250, you get access to all six lectures and can leave them on your dashboard to reference at any point as things come up.
Really fun. I will be doing other bundles as time goes on of lectures, classic workshops, and so on.
And if you want to buy the bundle, but already have one or two of the lectures bought, just write me and I'll get you into the bundle for a reduced price.
So take a look. We are very proud of these six lectures. Important information and the last lecture about IP Valuation will just make your head spin if you haven't given that topic any thought. Trust me, you need to think about it.