Meetings, Cats, Workshops, Challenges, and some Writing…
Yup, all of that. And more.
Writer's meeting at 2 p.m. up at WMG. I unloaded the car full of stuff I got yesterday in the valley picking. Then Kris and I left the meeting early and managed to catch the wild Gavin in enough time to make a vet appointment. Both cats are in good shape.
Then I finished some workshop work up at the office, cooked dinner at home, and went to work on e-mail and challenges.
So everyone who is in the June short story challenge or the summer novel challenge should have a letter from me. If not, write me.
Then instead of working on the book, I worked on the next chapter of The Magic Bakery for later in the week.
Then I did some writing on the novel, moving it forward another 1,200 words.
————–
First of the Advanced Business Lectures is now up and available.
You can get it at http://wmg-publishing-workshops-and-lectures.teachable.com
The subscription for lectures has a few more days before it expires.
Here is information about the first lecture: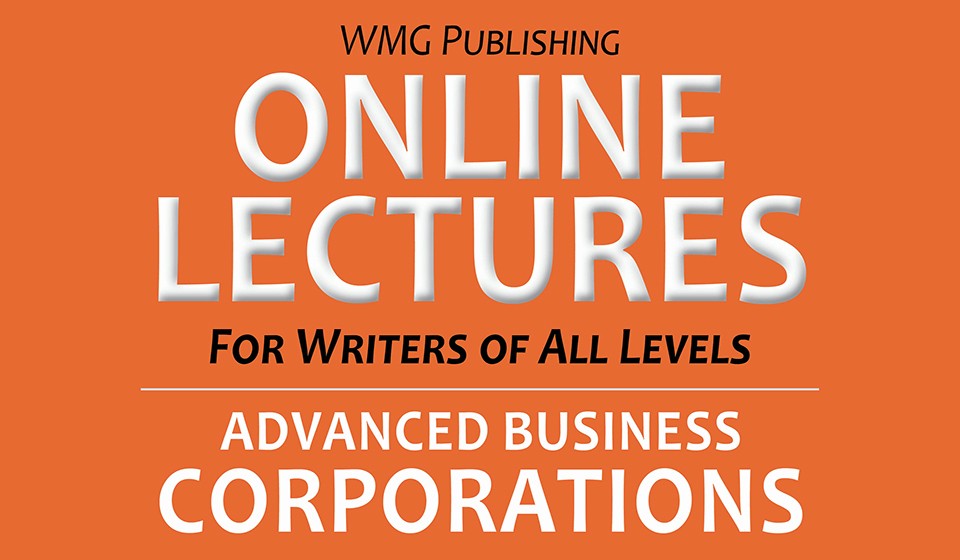 12 videos. $50.00… Corporations function as a money-saving structure for writers who know how to use them correctly. But besides saving money on taxes, a corporation for your writing business can help in many other ways.
From Taxes to Retirement Accounts to Investments to Estate Planning to Liability and Insurance to Asset Management. And more.
These twelve lectures do not give tax or accounting advice, but instead show you what might be possible for you to use in the right circumstances. Knowing something works and exists makes up of 90% of the battle.
One of six Advanced Business Lectures to help writers move forward in business.
http://wmg-publishing-workshops-and-lectures.teachable.com
———–
Specials Going Away and Offers Ending on June 1st.
STRENGTHS SPECIALS… Just Three More Days… The workshops will still be there for those signed up, but the specials included with them will vanish. Right now if you get three of them, the fourth one is free. That offer will end on June 1st. And right now if you take all six for the price of five, you get a free online workshop as well. That will end as well on June 1st. Write me for more information or check under the Strengths tab above.
SPECIAL LECTURE SUBSCRIPTION PRICES… Those will all end on June 1st. Just Three More Days… All the lectures will remain active, of course, but the special subscription price will go away.
NOVEL CHALLENGE… I had one more brave soul sign up to write three novels in three months and one person, due to family issues, had to drop out. So still two spots left if anyone interested. Starts June 1st and will close at that point.
June 1st is next Thursday, just three days away, for those of you like me who tend to lose track of time. (grin)
—————-
JUNE ONLINE WORKSHOPS…
All have openings at the moment. Information at
www.wmgpublishingworkshops.com
Any questions at all, feel free to write me. And if you are confused as to which workshop to take first, we have a full curriculum posted on its own page.
Class #51… June 6th … How to Edit Your Own Work
Class #52… June 6th … Point of View
Class #53… June 6th … Writing Mysteries
Class #54… June 6th … Speed
Class #55… June 6th … Teams in Fiction
Class #56… June 7th … Depth in Writing
Class #57… June 7th … Expectations (Writing on the Rails)
Class #58… June 7th … Character Development
Class #59… June 7th … Writing Secondary Plot Lines
Class #60… June 7th … Advanced Depth
——————
Tracking Running… May 28th, 2017
3 miles. (no miles running… still resting knee.)
Weight 193. (Goal 170)
Month to date distance: 119.5 miles
————–
Tracking Word Counts… May 28th, 2017
Totals For Year 4, Month 10, Day 28 (Year started August)
Writing in Public blog streak… Day 1,347
— Daily Fiction: 1,200 original words. Fiction month-to-date: 22,000 words
— Nonfiction: 00 new words. Nonfiction month-to-date total: 2,200 words
— Blog Posts: 400 new words. Blog month-to-date word count: 14,800 words
— E-mail: 37 e-mails. Approx. 1,200 original words. E-mails month-to date: 675 e-mails. Approx. 41,300 words
— Short Fiction Goal: 120 stories (July 1st to June 30th). Stories to date: 38 stories.
— Novel Goal: 12 Novels. Novels finished to date: 5 novels.
———-
You can support this ongoing blog at Patreon on a monthly basis. Not per post. Just click on the Patreon image. Thanks for your support.