The New World of Publishing: Pricing Indie Books…Some 2012 Thoughts
Normally I hate talking about pricing of ebooks by indie publishers because there are no right answers and I always end up making people mad. But that said, things are changing so fast that my last post about pricing (besides pointing to other people's posts) was way back. You can read it here.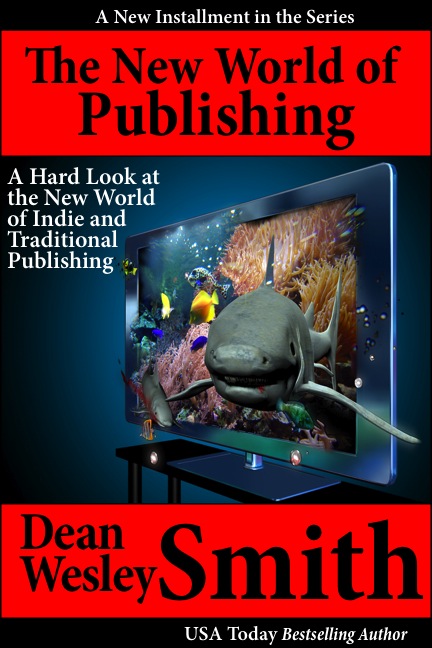 So leaving the thousands of details I could talk about behind, let me cut right to the chase and keep this short.
With one reminder: I am not talking about writers here. I am talking about the average reader buying books.
That said, my observations and studies of readers' buying habits have lead me to believe that ebook pricing is going up and books are being accepted and bought regularly at higher prices.
And on the flip side, the 99 cent area is becoming an area that many regular readers are avoiding or buying when books they know are "on sale" from a much higher price. (Discount readers will always buy at that price.)
Of course, this is not 100% of the time, and everyone here will have an experience of finding a book they loved at 99 cents that they would not have bought. Please spare us all that story.
Remember, one data point does not a study or trend make. I've been following hundreds and hundreds of data points and studies from here and in Britain, mostly, I must admit, studies done by traditional publishing. Their conclusion now is that electronic book prices are trending upward. (No matter what indie writers seem to believe.)
And I think that's a great thing.
It gives us all a ton more room to move around and do sales and such. But before you can do a sale, you have to price your book out of the sales bin to start with. And that's what I am going to talk about here:
Setting prices that give indie publishers flexibility in doing sales, just as traditional publishers have.
And also setting prices that allow a book to have a value to a reader and make the writer some money at the same time.
Traditional Publishers: Some Facts
— Traditional publishers are settled in around in the range of $5.99 to $7.99 for ebooks that are also released in mass market paperbacks.
— Traditional publishers are setting the prices much higher for ebooks also released in hardback, often matching the price of the hardback, but usually keeping the price of the electronic book around the $17.99 range for a time after the hardback release.
This varies from company to company, but no traditional publisher releases a hardback and also a $7.99-$9.99 electronic at the same time. However, this happens all the time with trade paper releases. A publisher will release a $16.99 trade paper and put out a $9.99-$12.99 ebook, then lower the price after six months on the electronic book down to the $7.99-$9.99 range.
— Traditional publishers are using the "sale" aspects of lower ebook prices for very-short-time events, sometimes only a day, often a week. They drop the price anywhere from free to $2.99. This almost never happens with only a first book, and never with hardback releases.
Usually the author has to have three or more books with the publisher before the publisher puts an early title on sale. And then only when the book is in mass market or trade paper editions.
Hardback pricing has "reduction" sales, meaning prices are lowered from $27.99 to $22.99 or lower. (And, of course, hardbacks are high-discounted into box stores like Costco, which means authors make no money on those copies for the most part under most contracts. Indie publishers seldom get to those box stores at this point.)
— As readers, we've been at this new phase of electronic reading now for going on two years, with regular readers now in the play instead of only early adaptors. This new trend of traditional publishing pricing is setting the price bar pretty firmly above $5.00 general level.
The lower prices are either because of length of the work and if a novel, an extreme lower price will often make readers more weary and cause the novel to jump through more hoops before bought. (Again, talking about regular book buyers, not writers or discount buyers.)
— There was (for a time) downward pressure on prices in electronic books in 2010-2011, but this trend has pretty well faded and now reversed (except at the high levels of pricing, meaning books above $15.99 still find a ton of resistance). A very vocal group of indie booksellers are keeping the pricing lower for some indie publishers. They confuse "sales" and "discounting" with original Suggested Retail Pricing.
But traditional publishers are holding the prices high and most readers (not all) are accepting that, when the price for the ebook is in a reasonable range. (Note: I said "reasonable range." Very few ebook readers will pay above $15.99 for an ebook without the early-purchase premium on the book, meaning it's just released from a favorite author. Studies have show that there is a very strong resistance above $12.95 price point.)
— All this is for what I call "normal readers." A reader who would ONLY buy a book from a discount bin or cheaply at a used bookstore will disagree, of course, and love the 99 cent novel trend. But normal readers, the masses that are now starting to enter the electronic reading world are fine with paying a fair price. And if the price is reasonable, won't even notice the price for the most part.
My Suggestions for Pricing in 2012
These ebook prices are slightly different than my earlier suggestions. And for ease of stating, I am using word count as markers. This is not always the case. Word count in some genres, such as young adult and early readers or fat fantasy, can vary. So these are only guidelines.
And only my opinion.
EBOOKS
Short Fiction (Under 3,000 words) $1.49
Short Fiction (3,000-6000 words) $1.99
Fiction (6,000-9,000 words) $2.99
Fiction (9,000 to 15,000 words) $3.49
Fiction (15,000 to 20,000 words) $3.99
Fiction (20,000 to 30,000 words) $4.99
Fiction (30,000 to 50,000 words) $5.99
Fiction (above 50,000 words if backlist) $6.99
Fiction (above 50,000 words if brand new) $7.99-$8.99 (maybe higher for a short time if attached to a paper book release.)
Those are my pricing suggestions here in early 2012 for ebooks. I think they would have been slightly off a year ago, slightly too high for the market back then. But now, as electronic reading goes into this new phase, out of the early adaptor phase, I think the above pricing is fair and following trends in publishing in general.
Every writer is different.
Every publisher is different.
You must decide what kind of publisher you want to be.
Remember, my opinions are based on my desire to be a long-term publisher, selling in all markets all over the world. Short term gains are nice, but not something I would spend much time chasing.
We shall see how these prices work over the next few years. I might be doing another pricing update a year from now. But I don't think so.
————————————————
Copyright © 2012 Dean Wesley Smith
Cover art copyright Philcold/Dreamstime
————————————————–
This chapter is now part of my inventory in my Magic Bakery.  I'm giving you this small slice as a sample. I'm giving you a taste, but not selling any of the pie.
If you feel this helped you in any way, toss a tip into the tip jar on the way out of the Magic Bakery.
If you can't afford to donate, please feel free to pass this chapter along to others who might get some help from it.
And I would like to thank all the fine folks who have donated over this last year. The donations and the comments both after the posts and privately are really keeping me going on this. Thanks!