The New World of Publishing: An Observation
It has been an interesting time for me and writing over the last three months that has gotten me to a spot where I can see clearly (even tired) some observations about indie publishing that without the last three months I would not have noticed. At least not now. I'll talk about them one at a time over the next month or so.
The first observation: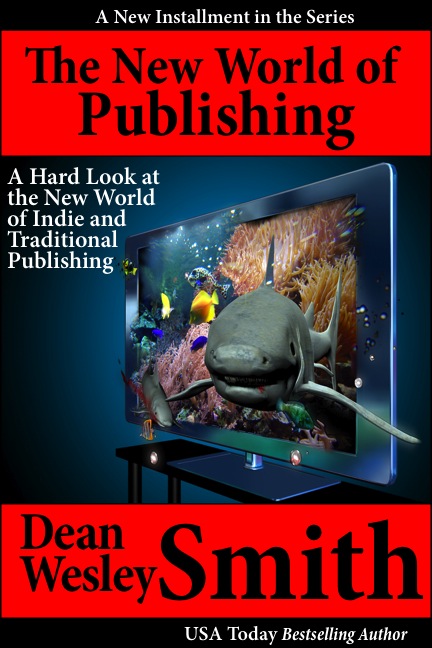 The Money Doesn't Stop
In late July and early August I worked really hard on getting some experiments ready for the World Science Fiction Convention in Reno, Nevada. Book cards and the like. I had no book deadlines and the only writing I was doing for the summer and fall was the short story challenge and getting up indie published a Poker Boy novel and a thriller I had written a few years back and done nothing with. It felt wonderfully freeing.
Now understand, I am a professional fiction writer. Not having book contracts, not having deadlines used to be the most frightening thing that could happen to me. In fact, before this year, I loved having at least five and up to ten book deadlines lined up like planes on a runway waiting for take-off, as Kevin J. Anderson calls them.
In fact, on my office wall I used to have a bunch of images of jets cut out of paper and a book title written in bold on the side of each jet image. In one color ink I had book projects I was thinking of writing, in another color book projects I had under contract.
If I finished the book and turned it in I would cut off the wheels of the plane so it looked like it was flying and put the plane on another wall. At one point I had fourteen novels in the air at the same time in that period between turn-in and publication. (Those of you who don't understand traditional publishing time, you won't understand how that was even possible.)
If a book deadline got moved around, I would climb up on a chair and change the order of the planes on the wall on the runway. When I got a new contract, I added those planes to the line on the runway, fitting them in around the others as the deadlines allowed.
In other words, I was the flight controller for my own books. I could control that much of the business.
That system worked for me for almost a decade, letting me, at a glance, see what I had happening at a glance at my little airport-of-publishing.
Right now, if I had those planes on my wall, I would have a couple book ideas, nothing in production, and nothing in the air.
In the old days, that would have scared hell out of me, because I know how slow money comes in from traditional publishing. In fact, I would have been planning for cash shortages for at least a year out ahead.
Yet in August I felt wonderful, actually light for a change. No deadlines and money flowing fine from indie publishing. Then on the last day of the convention my friend died and every plan I had for writing changed suddenly. (I've talked a couple times about the mass of work and problems of that, so won't go over that again. Just know it stopped me cold in even thinking about writing much from August 22nd to two weeks from now.)
Now, with book deadlines in traditional publishing, I would have called editors, pushed back deadlines, and really, really hurt my cash flow by doing so.
But now, without deadlines or anything at the moment forcing me to write even while in this mess, the money keeps flowing.
And except for the challenge stories, it's all from backlist. Kris's novels, our collections, some short novels, and a ton of short fiction. Over 200 titles up through WMG Publishing, all earning money while I deal with life issues.
I have been getting nothing new up through WMG Publishing either since the system was set up that I am the bottleneck in the process. (We will change that down the road.)
What stuns me is that the amount of money flowing in each month hasn't gone down. In fact, it's slowly growing. Not as fast as it was when WMG was putting up more work every month, but still growing.
So my point is on this that if you use indie publishing correctly, you don't need book deadlines to keep the money flowing. And you don't have to go get a day job either. The money flows from your own writing like the grand old days of royalty payments. Old-timers, remember those days? (grin)
With indie publishing, the money just keeps flowing even when you are not writing or putting up more products.
As a long-term professional fiction writer, I am stunned.